Eastern Ontario's Largest Multisport Series.
Creating inspiring events for all goals.
Hosting triathlon, duathlon and running events in the National Capital Region. Take a look at our upcoming events to see what we have in store. We can't wait to see you at the next start line!
Explore 2023 Events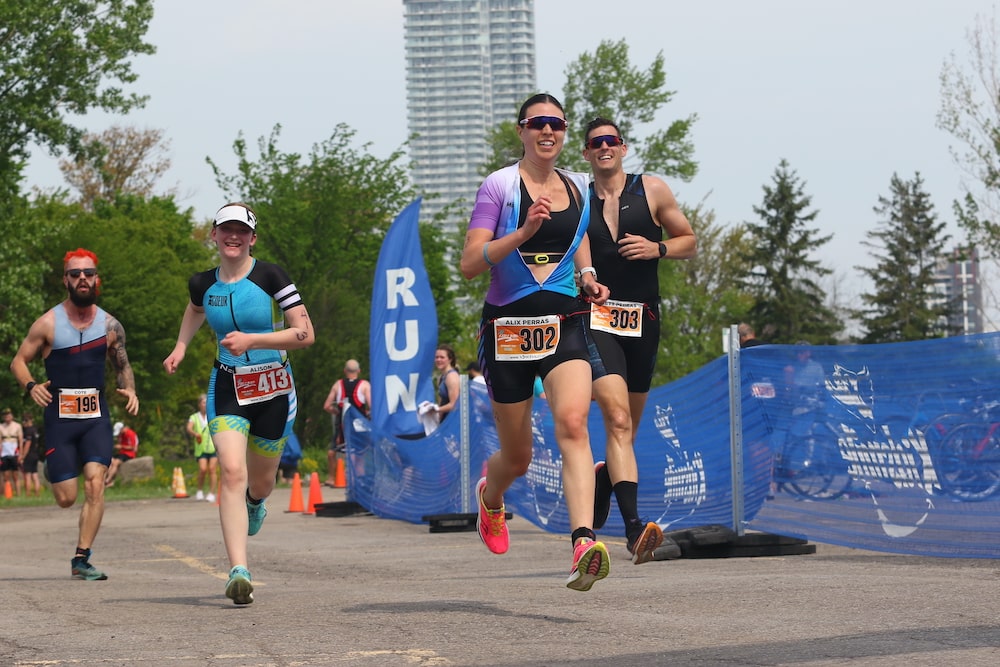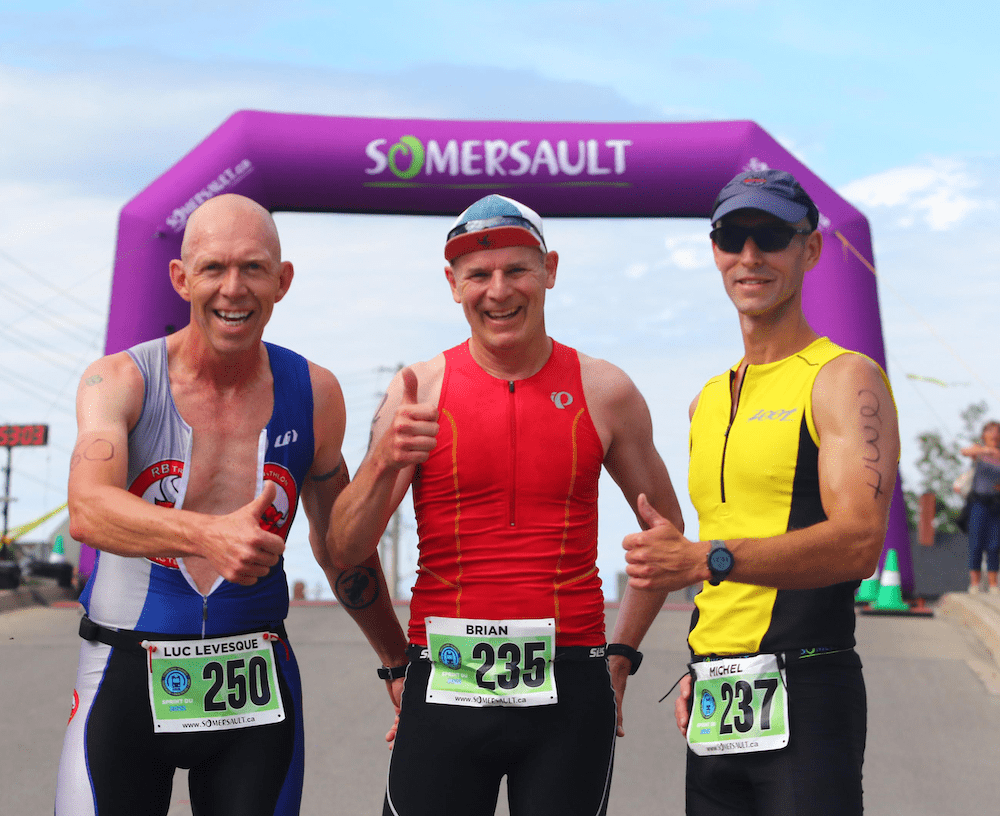 About Us
Somersault is a race series, based in Ontario, Canada, that specializes in multisport and running events. Somersault has been producing events for over 35 years and has grown to now host thousands of athletes each year.
Now under new ownership, co-owners and husband and wife, Adam Kourakis and Elizabeth Krause are committed to continuing the Somersault legacy of putting on incredible events in the National Capital Region.
Our Values:
Safety - Above all, safety is our utmost priority. We are committed to ensuring that you are safe and supported in all of the phases of race day. Whether it is in water or on land, you will be supported by skilled safety teams.
Community - Our events serve as a gathering place for the running & multisport community. It is a community that lifts each other up and lends a hand when it is needed. We engage with our community continuously through seeking and responding to participant feedback and suggestions.
Fun - Why race days are so special - the buzzing energy at the start line and the pride and smiles at the finish. Fun is the reason why at the end of each race, you cannot wait for the next one!
Inclusion - No matter if it's your first race or fiftieth, there is a place for you at Somersault events. We believe that triathlon, duathlon, and running are sports where everyone belongs. When you race with us, you are treated equitably, and always with respect.
News & Updates
Athlete Spotlight - Hussein Al-Mufti
Meet our next featured athlete - Hussein Al-Mufti! He has had a whirlwind of a journey into Triathlon from "hating cardio" only two years ago to then completing his first ever triathlon this May and first ever Iron 113 distance at this year's The Canadian on September 2nd 2023. Hear more about his story below.
How did you get into triathlon/duathlon?
During a dinner at my friend's house, two years ago, one of my friends asked me if I run outside. My answer was "No I hate doing cardio!!". He replied, "Then come and give it a try with us, we run every Sunday on 1 Cooper Street- Ottawa, at 7 am!!"
Since then, I have not missed any Sundays for my runs, not even during the winter season, Yes, we do run outside! You can check out my Instagram account @almuftihussein to see these runs!
A year ago, another friend called me from overseas and said "I am checking your stories on IG and I see that you are running a lot, why don't you try doing an Ironman race!!" and that's how it started :)
As for the swimming part, I was already a short-distance swimmer, so I have a good background in swimming. I used to be a national team swimmer in Iraq.
I needed to buy a bike, so I started looking into Tri-bikes and I came across Mike Osborne (who is now my friend and coach), he is the one who opened my eyes and sent me the link for my first ever Triathlon with Somersault which was Early Bird - Long Triathlon- May, 2023.
What is your favourite Somersault event? What is your favourite event distance?
Event: The Canadian Iron 113 Triathlon, not because I came 5th place, but because the vibe was amazing and there was lots of energy from spectators along the course.
Distance: I think my favourite distance would be the Olympic Triathlon.
Describe your 2023 achievements and journey from first tri to Iron 113 this year.
The journey started with the Early Bird in May 2023, my first Triathlon. it is an excellent introduction to a triathlon. Then I decided to take a longer distance race so I did Meech Lake in June 2023, because I work in Brockville, there is no way I would miss the 1000 Islands Tri, in August 2023, then to serve my vision and dream which is to do an Ironman distance, I decided to go ahead and register for the Canadian Iron 113 Triathlon in September 2023.
I did four Triathlons with Somersault this year, and I have noticed that my times, ranking, and performance are all getting better with every race. Not only that, but even my endurance. Thanks to my family who have supported me along the way and my coach Mike Osborne, who went above and beyond to get me where I am today in Triathlon races.
The Last race was the Canadian Iron 113 Triathlon, doing an Ironman distance was more of a mental challenge than a physical one.
Having the opportunity to do those races locally means a lot to me. It's wonderful to have the community to come together and enjoy these moments of achievement.
Lastly, doing these races helped me to meet and connect with other athletes, who I learned a lot from both directly and indirectly.
Somersault has proven to me in every race that the standard for organizing such big events and taking care of every single detail is one of the reasons why they are so successful.
Many thanks to the whole Somersault Crew and to the volunteers.
What is your best piece of advice for someone new to multisport racing?
Don't wait to be invited, just look up Somersault and register. Hurry!
Thank you Hussein, for sharing your story! We loved having you in our 2023 multisport series!
Did you accomplish a memorable 2023 goal or are working on a multisport journey that you would like to share? Email elizabeth@somersault.ca if you want to be featured in our next athlete spotlight.
Fall Colours Pre Race Newsletter
The Fall Colours Run will be here before we know it and we wanted to send some event reminders. Please read through this entire email so that you're ready for your race!
Transfer Deadline: Tuesday, October 3rd at 6pm:
If you need to change any info related to your registration please let us know before Tuesday, October 3rd at 6pm. We won't be able to make any changes after that time, so be sure to reach out soon if you need anything.
We'll have a few spots available for those who would prefer to register in person on October 7th or 8th but signing up online guarantees your spot!
Orientation and Bib Pickup:
You'll be able to pick up your bib at the Black Walnut Bakrey from 3pm to 6pm on October 7th. Their address is 979 Cameron St, Cumberland, ON K4C 1A1.
There's plenty of parking at the Cumberland Heritage Museum, but we always recommend biking or carpooling to the event if you can.
Bring your smile, or your game face, and keep an eye out for our Race Photographers on Race Day. The photos are FREE for anyone who participates. They're sponsored by John Gomes Real Estate.
For all your Real Estate needs - whether you're buying or selling - please consider supporting those who support our community. John is often at the star to of our races, but he's been helping behind the scenes for a number of years now. The running community has so much to thank John for, and we hope that you keep him in mind next time you're moving.
We recommend showing up one hour before the race, to find parking, get your bib, warm up, and make your way to the start line. We'll be set up at the Cumberland Heritage Museum, starting at 7:30am.
We have this handy Spectator Guide! It highlights all the info that you and your spectators will find helpful on Race Day.
If you have any last-minute questions, please let us know! Otherwise, check out our website for all things Somersault. You can also keep in touch with us on Facebook and Instagram.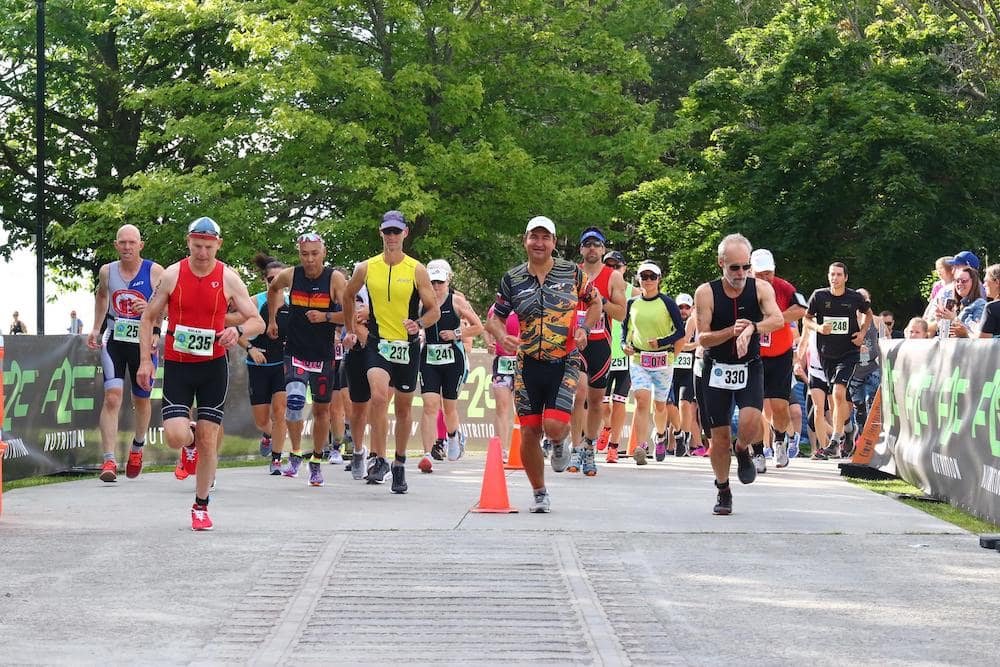 Creating inspiring events for all goals.
Hosting triathlon, duathlon and running events in the National Capital Region. Take a look at our upcoming events to see what we have in store. We can't wait to see you at the next start line!
Explore 2023 Events
Our Awesome Sponsors
Our series would not be what it is today without the help of these sponsors. Please consider supporting those that support us!
Join our newsletter
Stay up to date on all things Somersault by joining our newsletter.