Eastern Ontario's Largest Multisport Series.
Creating inspiring events for all goals.
Hosting triathlon, duathlon and running events in the National Capital Region. Take a look at our upcoming events to see what we have in store. We can't wait to see you at the next start line!
Explore 2023 Events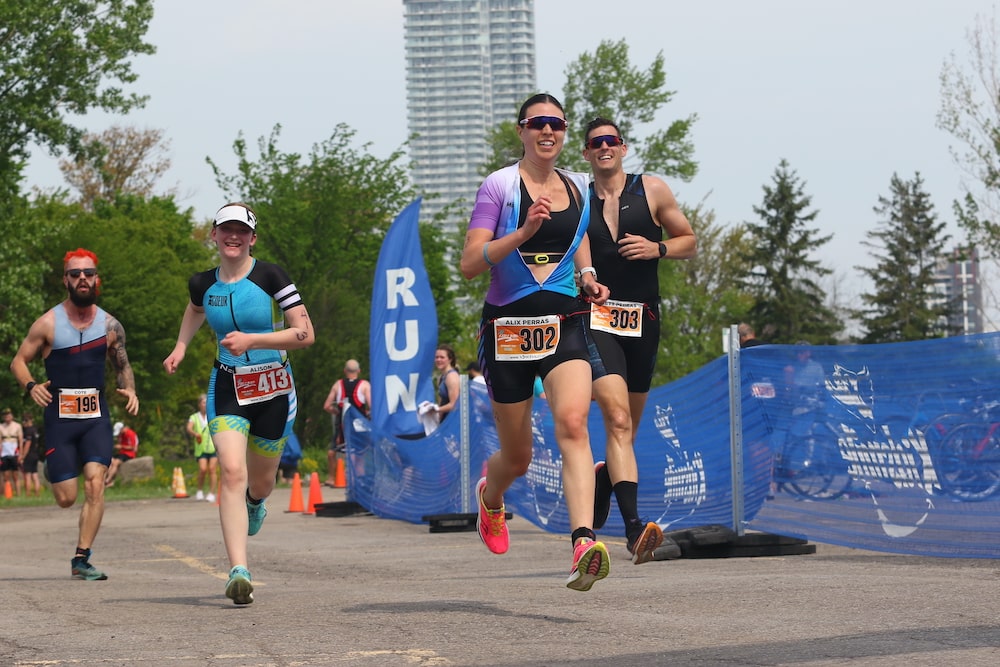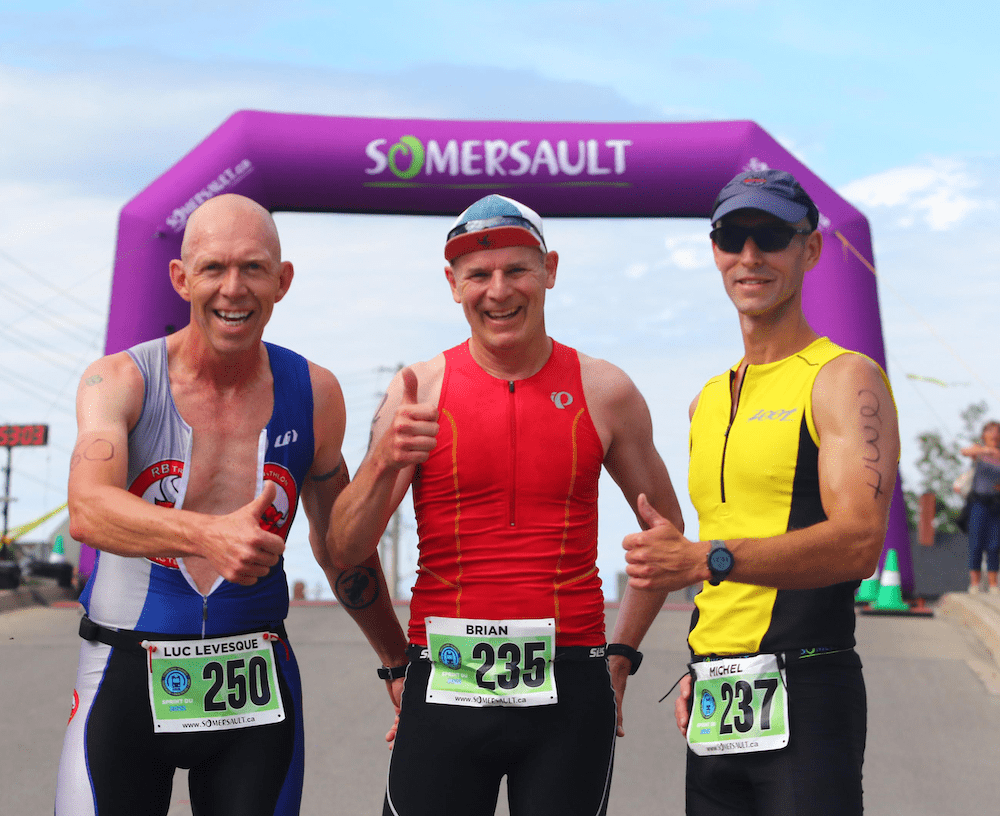 About Us
Somersault is a race series, based in Ontario, Canada, that specializes in multisport and running events. Somersault has been producing events for over 35 years and has grown to now host thousands of athletes each year.
Now under new ownership, co-owners and husband and wife, Adam Kourakis and Elizabeth Krause are committed to continuing the Somersaut legacy of putting on incredible events in the National Capital Region.
Our Values:
Safety - Above all, safety is our utmost priority. We are committed to ensuring that you are safe and supported in all of the phases of race day. Whether it is in water or on land, you will be supported by skilled safety teams.
Community - Our events serve as a gathering place for the running & multisport community. It is a community that lifts each other up and lends a hand when it is needed. We engage with our community continuously through seeking and responding to participant feedback and suggestions.
Fun - Why race days are so special - the buzzing energy at the start line and the pride and smiles at the finish. Fun is the reason why at the end of each race, you cannot wait for the next one!
Inclusion - No matter if it's your first race or fiftieth, there is a place for you at Somersault events. We believe that triathlon, duathlon, and running are sports where everyone belongs. When you race with us, you are treated equitably, and always with respect.
News & Updates
Join a Local Triathlon Club!
Joining a triathlon club is a great way to stay accountable and challenge yourself! Not only will you have access to amazing coaches and resources, but you'll also be part of an amazing community of like-minded individuals who are all striving to reach their goals. With regular group workouts, your workouts will be more consistent, and you'll experience the satisfaction of hitting your goals. You'll also have the opportunity to meet new people and make lifelong friends. So if you're looking for a fun and challenging way to get in shape, join a triathlon club and see how far you can go!
Here are 3 great local triathlon clubs that have something to offer:
Zone3Sports: This Ottawa-based triathlon club is owned and operated by Rick Hellard. Rick has 25 years of coaching experience, is a former professional triathlete (all distances!), and owns ROC Swimming. He hosts weekly group runs, virtual rides, and other activities, but he also offers 1-on-1 coaching to anyone who wants a custom program to fit their schedule and needs.
The Ottawa Triathlon Club would like to present the Triathlon Program Training Workshop. New to Triathlon or would like to improve on your last race? Join Coach Todd for this virtual presentation that will go over what you need to know to formulate your own training plan. Our event will be held on Sunday, February 26th at 7 pm. This one-hour interactive presentation will help you get to the finish line with confidence. Email ottawa.triathlon@gmail.com for your invitation.
Team Triumph: Are you are Beginner Triathlete looking for a training plan? Team Triumph Triathlon club is running their 14 Week Virtual Beginner Triathlon Program again this year. It's perfect for the beginner triathlete getting ready for their first tri-a-tri or sprint distance race. Get The Expert Training You Need To Finish Your First Triathlon! The program starts on February 13, 2023. Full details can be found here.
Rick's Tricks! Advice from ROC Swimming & Zone3Sports, by Rick Hellard
Rick Hellard is the local legend behind ROC Swimming and Zone3Sports. He's one of the regions most accomplished athletes, and one of the most accomplished coaches for swimming and triathlon. For 2023, Somersault is lucky enough to have him as our Swim Cap Sponsor. Today, he's offering some advice about swim goggles. This article is part of a new series we're doing, called Rick's Tricks. Check in often to see what other tips and tricks Rick has for you!
If you have any more questions for Rick, or if you're looking for some coaching support, be sure to send him an email at zone3sports@gmail.com.
As a long-time triathlon and swim coach, one of the things I see the most in the pool is triathletes fidgeting with goggles, caps, and paddles, whereas the swimmers rarely have issues with any of their equipment.
Goggles and goggle fit are the biggest issues by far, and with this article, I hope to help you achieve the perfect symbiosis between you and your goggles.
It is important to realize a few things.
Everyone is different, and your buddies' preferred goggles may not work for you, no matter how good they are.
Few people are so special that no goggles work. It's just a question of finding them.
Goggles fog up. Maybe not right away, but eventually, they will. If this happens to a relatively new pair of goggles, just before you start swimming, simply put 2-3mm of water in the goggles, and leave it there. As you swim, shake your head around to swish the water inside the goggles. Repeat as necessary.
Most companies make very similar models to each other. Once you find the style that works for you, you can either stick with that one or try a different company that makes a similar model. There may be slight differences that work or don't work, for you.
Once you find your favourite, it's probably a good idea to buy a few pairs. Just in case the next version of that goggle changes a bit that does not work for you.
Most goggles are oval in shape to fit in the eye socket. They may be different versions of an oval, but they are still oval.
Some goggles have foam, others have silicone, while others have solid plastic as a seal.
Foam and silicone seal goggles have more give to them. They fit more people and tend to be pretty comfortable.
Solid plastic seal goggles are lower profile, smaller, and either fit, or hurt like heck.
As mentioned above, the goggles should fit in your eye socket. Some fit deeper than others, but generally, they should fit snugly, and stay in place without the strap for a few seconds. This allows you to wear them without cranking the tightness of the strap.
If they feel close to correct, but don't stick, try one goggle at a time. If that works, then it may be the width of the nose piece causing the issue. If it is a replaceable nose piece, swap it out for a smaller or larger one and try again with both goggles. If it is a solid nose piece, the goggles will likely not work for you.
If your eyesight is not great, most companies make prescription (or RX) goggles. They are a bit more expensive, and they won't be perfect as they go up .25 diopters, but they are pretty good. The caveat is they tend to be made in only one style per manufacturer, so if that style works for you, you're in luck. If that style does not work for you, you will have to try a different manufacturer, or go the custom way ($$$).
Dark, mirrored, or dark and mirrored goggles are wonderful for well-lit locations like outdoor pools, or pools with big sunny windows, but they are less useful for dark water or poorly lit conditions. Clear or light blue or grey lenses work best in most indoor pools.
If you are going to be doing a lot of outdoor swimming, look for goggles that have UV protection as well as being tinted.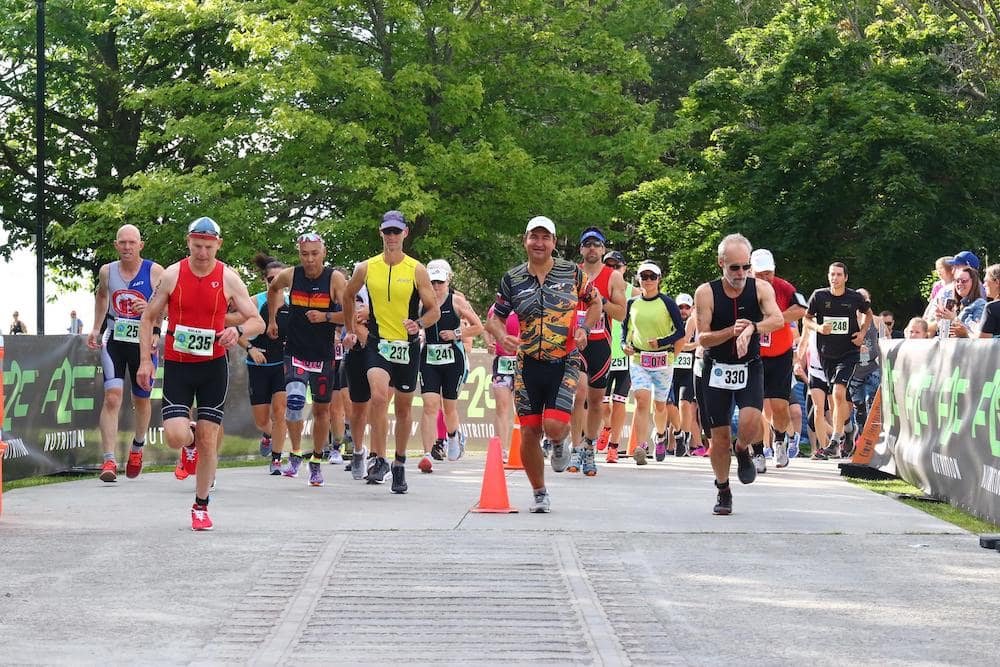 Creating inspiring events for all goals.
Hosting triathlon, duathlon and running events in the National Capital Region. Take a look at our upcoming events to see what we have in store. We can't wait to see you at the next start line!
Explore 2023 Events
Our Awesome Sponsors
Our series would not be what it is today without the help of these sponsors. Please consider supporting those that support us!
Join our newsletter
Stay up to date on all things Somersault by joining our newsletter.