Sat, Sep 07, 2024
Camp Tri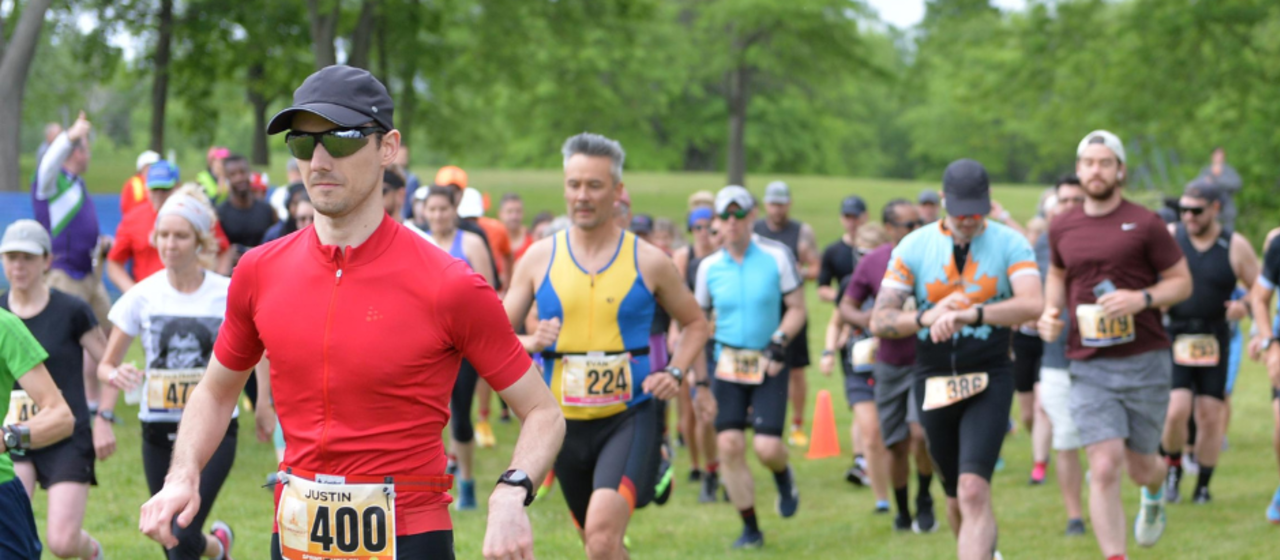 About the Event
A Race Experience Like No Other:
Be the first to see this NEW course for 2024. Starting at Milles Roches, in Long Sault, you'll have shallow waters for your swim, a pristine parkway to bike on as you island hop your way through the course, and a scenic run on packed asphalt and gravel trails to finish off the event.
We've also managed to secure some exclusive campsites for those who register. If you're interested in camping at Milles Roches the day before, or the day after the race, stay tuned for more information. Long Sault hopes to send us a booking code in March 2024 so that all our athletes, volunteer, and supporters and spend the weekend together on site.
Disclaimer:
This event will sell out early, so sign up before it's too late. The event is limited to 700 participants.
Participants love:
A shallow swim course, making the water just a little bit warmer.
The bike course is limited to local traffic only.
A scenic run course along the edge of the St. Lawrence.
Included in your registration is:
Bragging rights!
A FREE virtual bike fit from MyVeloFit.
A personalized race bib.
A Somersault swim cap from ROCS/Zone3sports.
Professional timing from Sportstats.
On-course nutrition from F2C.
Race Photography from FinisherPix.
Post-Race non-alcoholic beer from Libra.

Post-Race snacks.
Podium Prizes for the top 3 male, female, and non-binary finishers in each event, from TWIGZ.
Memories that you won't soon forget.
Important Deadlines:
Shirt Deadline - August 2nd. If you're interested in ordering an event shirt for this race, be sure to register and add a shirt to your order before the Shirt Deadline. After that date, we won't be able to add shirts to our order.
Medal Deadline - August 7th. We keep our prices low and make the finisher's medal an optional add-on. If you want to commemorate this achievement with a finisher's medal, make sure to register before August 7th and add the medal to your order.
Online Registration Deadline - September 3nd at 6 pm. If you don't sign up by then, you can still sign up in person on race day, or at bib pick-up, subject to availability. Some of our races sell out, so make sure to sign up early!
Bib Pickup:
You can pickup your bib on Friday, September 6th from 3pm to 6pm at Milles Roches Beach. That's where the race will take place the following day. If you aren't able to pick up your bib the day before the race, you can still pick it up on race day, starting at 7am.
We'll also have an in-person orientation on Friday, September 6th, at 5pm. Our race director will walk you through the course and take questions to make sure everyone is race-ready for the following day!
Pre Race Newsletter:
Already signed up? Check out the Pre-Race Newsletter here. It has all the last-minute info that you'll need to get the most out of the event.
When & Where
Date & Time
Sat, Sep 07, 2024
Location
Mille Roches Island, Long Sault Parkway
Fundraiser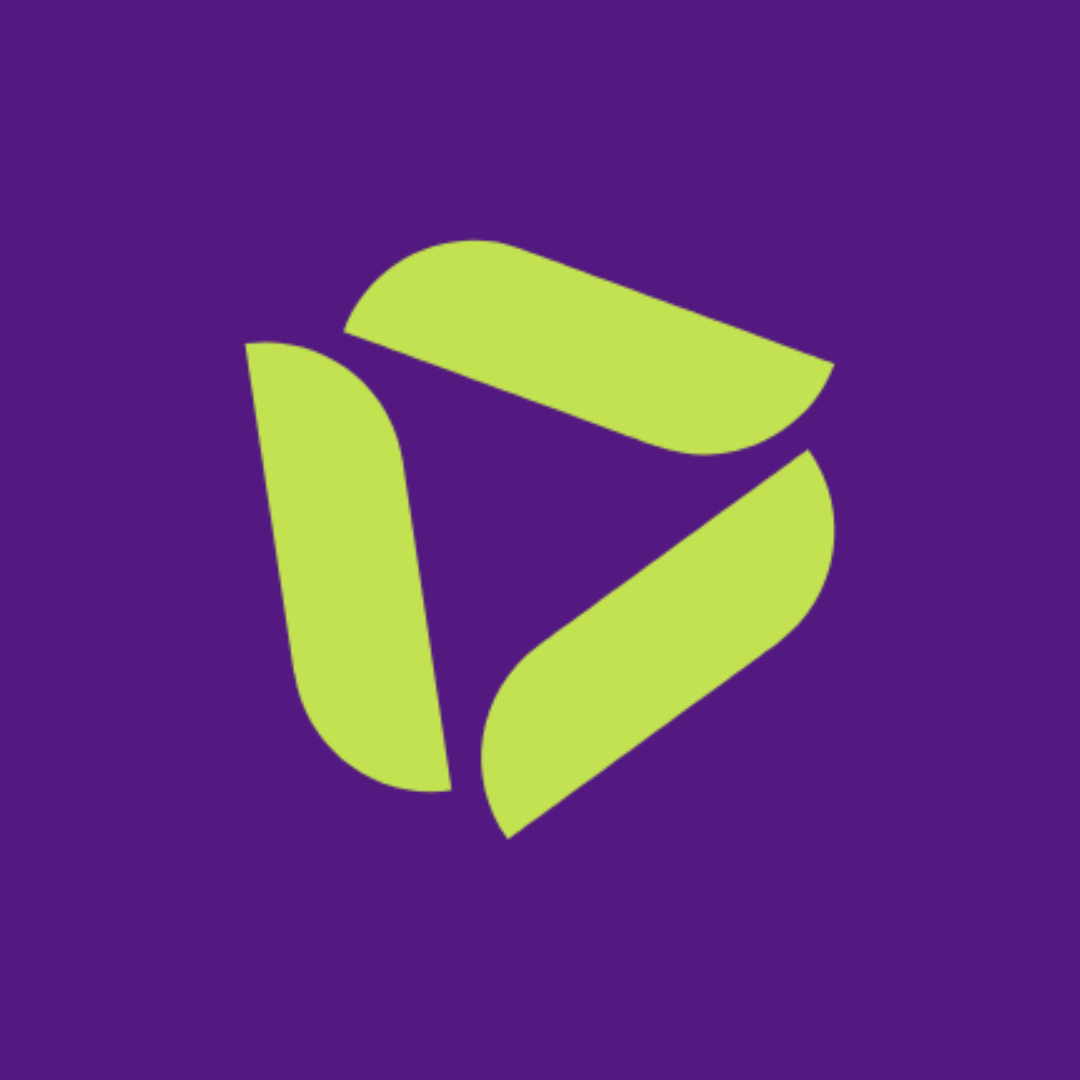 Eastern Thunder Broomball Team
The volunteers at Camp Tri are from the Eastern Thunder Broomball Team. You'll see them throughout the event, making your race experience everything it can be. Please consider supporting these enthusiastic young athletes to fundraise for their season!
Raised

$20.00

Goal

$1000.00
Course Maps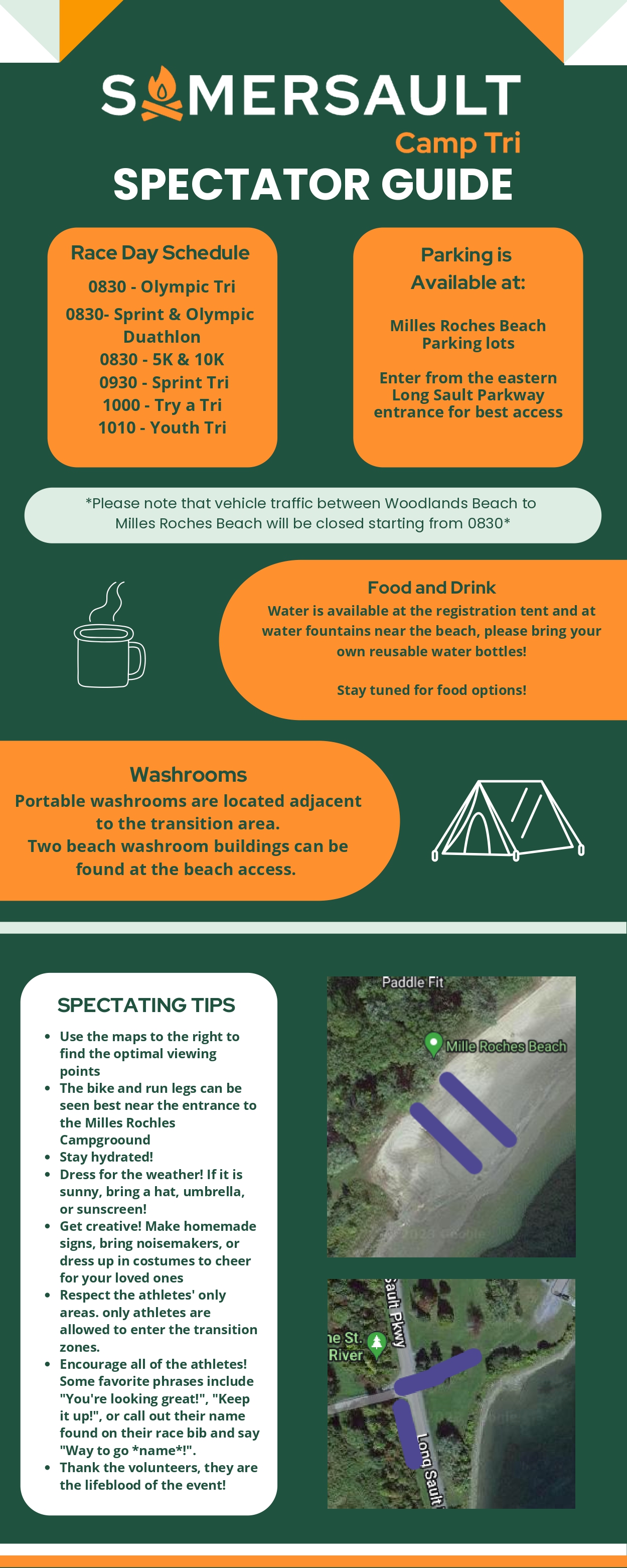 Camp Tri Spectator Guide
Find the details of Camp Tri - starting times, parking, washroom, and food and drink information.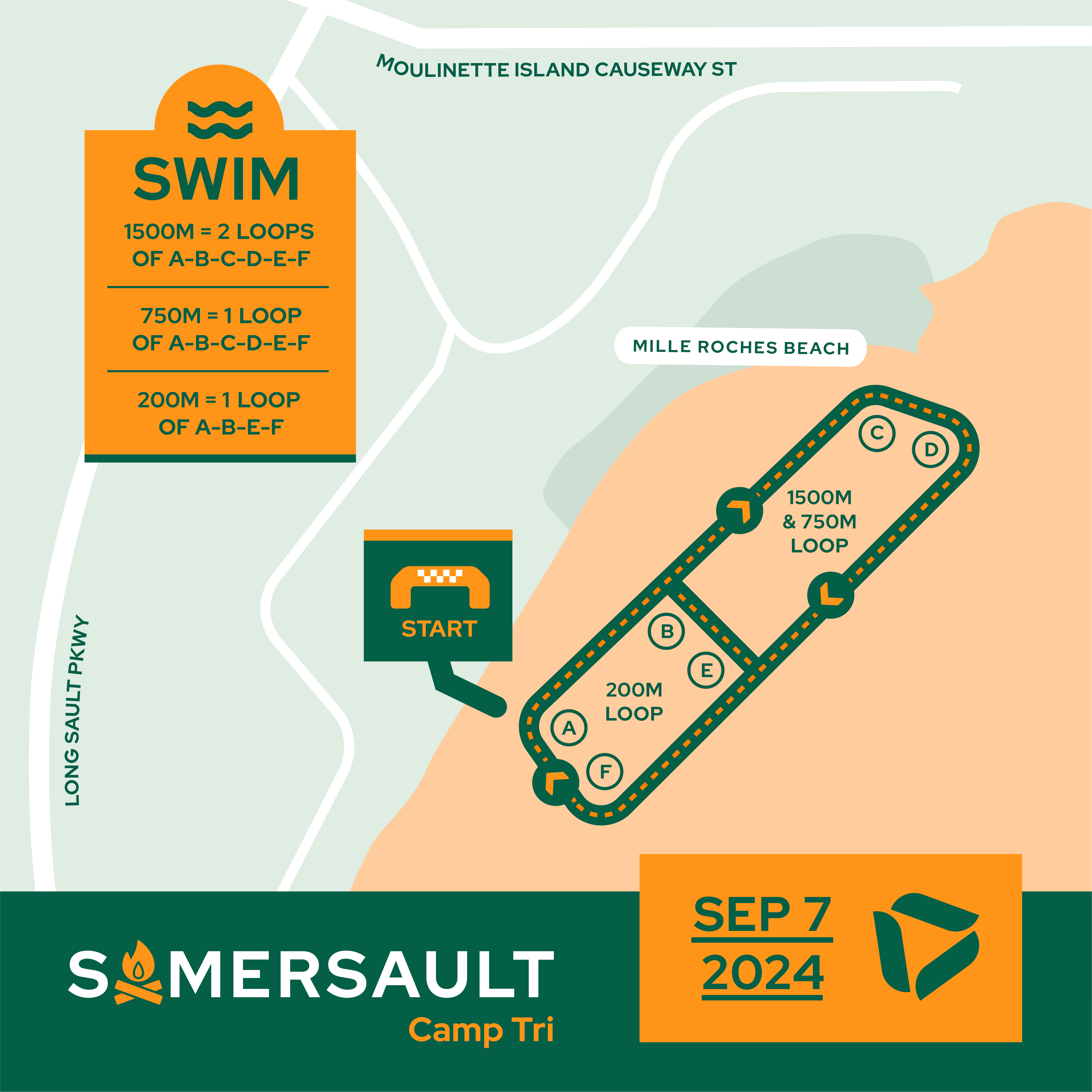 Swim Course
Here's our swim course map for the Camp Tri event.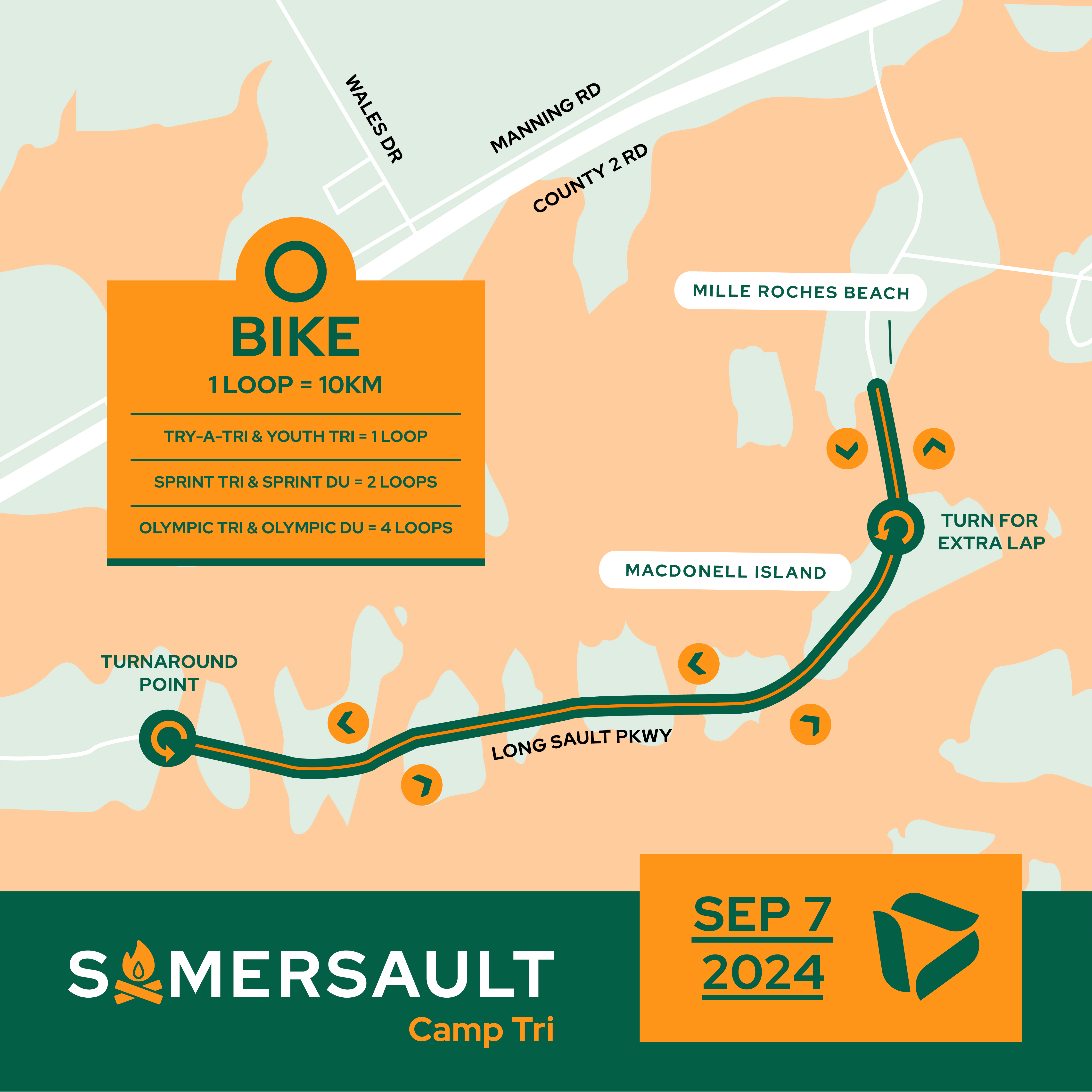 Bike Course
Here's the bike course map for the Somersault Camp Tri Event. Riding along the Long Sault Parkway, hopping over 9 different islands on a freshly paved road.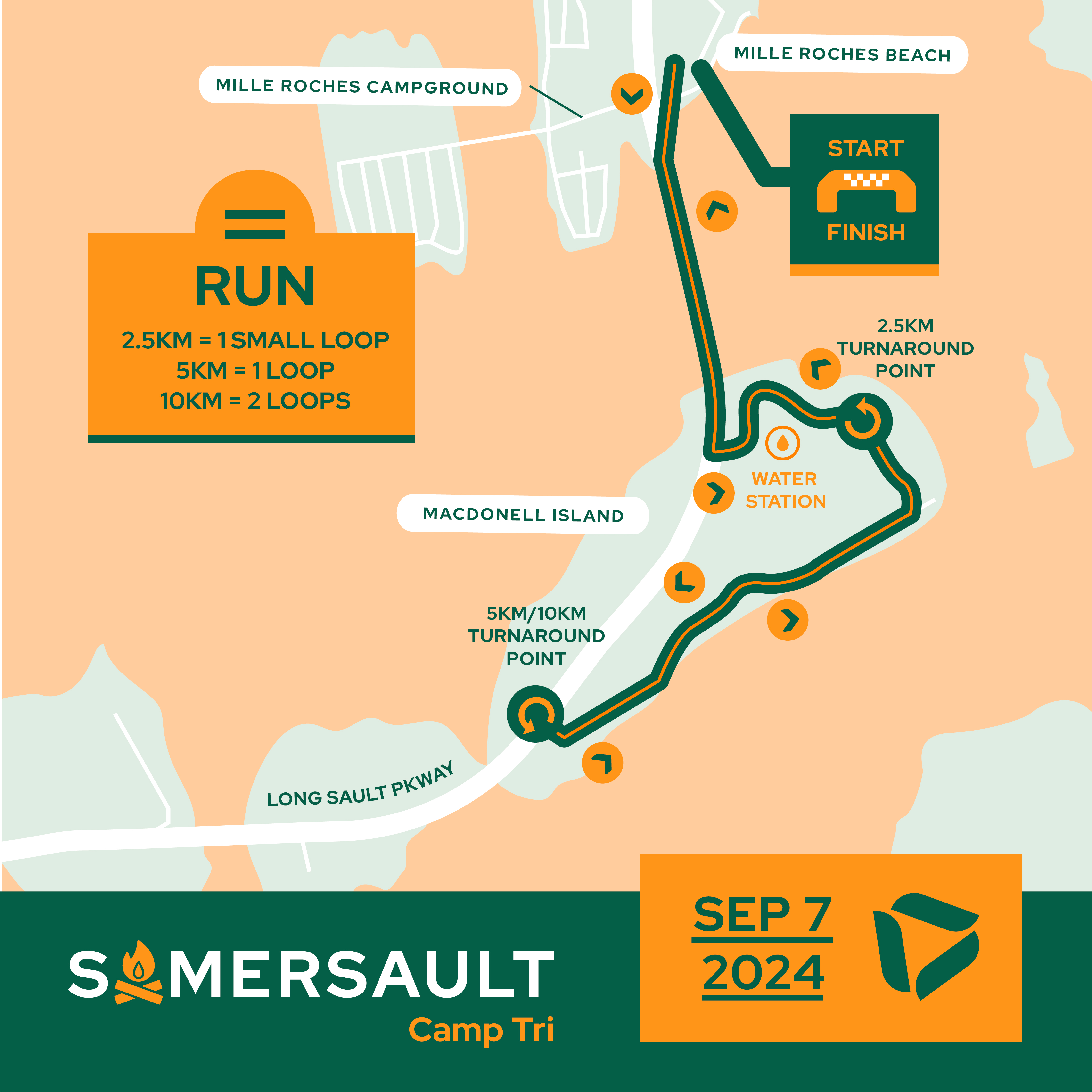 Run Course
Here's the map for the run course at the Somersault Camp Tri Event. You'll run right along the edge of the St. Lawrence River, on a mix of asphalt and hard-packed gravel.
---
Where & When
Sat, Sep 07, 2024
Mille Roches Island, Stormont, Dundas and Glengarry United Counties, ON K0C 1P0, Canada
---
Refund Policy
Refunds can only be issued if you purchase cancellation insurance. Purchasing the insurance allows you to ask for a refund anytime before the start of the race, for any reason. No questions asked!
---