Sun, Nov 06, 2022
Our 2023 calendar is now LIVE!
Our 2023 event calendar is LIVE. You're now being to sign up for some races!
Here're some of the fun things that we have planned.
We have a new look!
We spent the last while giving our series a facelift. We now have a new logo and website to show you all. Over the next few weeks, we'll be adding the finishing touches to our new website to include new maps and a fully bilingual version of Somersault.ca.
Speaking of new looks, one of our most popular events also has a new look to it. We're proud to announce that our 'Winterman' event is now called 'Embrace Winter'. This new name better reflects the spirit of the event and the spirit of Somersault. We hope to see you all at our first-ever Embrace Winter Run, which is an Official Winterlude Event and supports Imerman Angels.
Early Bird Charity Spot
The good news: Early Bird is back for 2023! The bad news: This event always sells out. Here's your chance to secure your spot before anyone else by purchasing a charity spot and supporting Safe Families Ottawa.
To purchase a charity spot, simply email Adam@Somersault.ca. By committing to a spot, you get:
-Entry into an Early Bird event of your choosing
-$100 towards any other 2023 Somersault event
-A Somersault Race Belt
-A dedicated bike rack in transition, with the best position for a fast time
This is a value of approximately $240. In exchange, all you have to do is fundraise a minimum of $300 for Safe Families Ottawa.
Email Adam@Somersault.ca to grab one of these limited spots!

NEW EVENT: Formula Run
This running event forces you to work smart and figure out the best running strategy (or, formula) to get your team to complete the most laps possible in 90 minutes.
Each team has one timing chip, which can be passed between members, like a relay baton, to finish as many laps as possible.
Teams can be groups of 2, 3, or 4. Alternatively, you can sign up solo and see how you fare on your own.
Each lap is 363m long and is a smooth pentagon shape. It's well-paved, closed to the public, and has a water station on every loop.
Grab your friends and start planning! Do you opt for shorter shifts with more transitions or longer runs with less time spent passing the baton around? The right formula can make all the difference!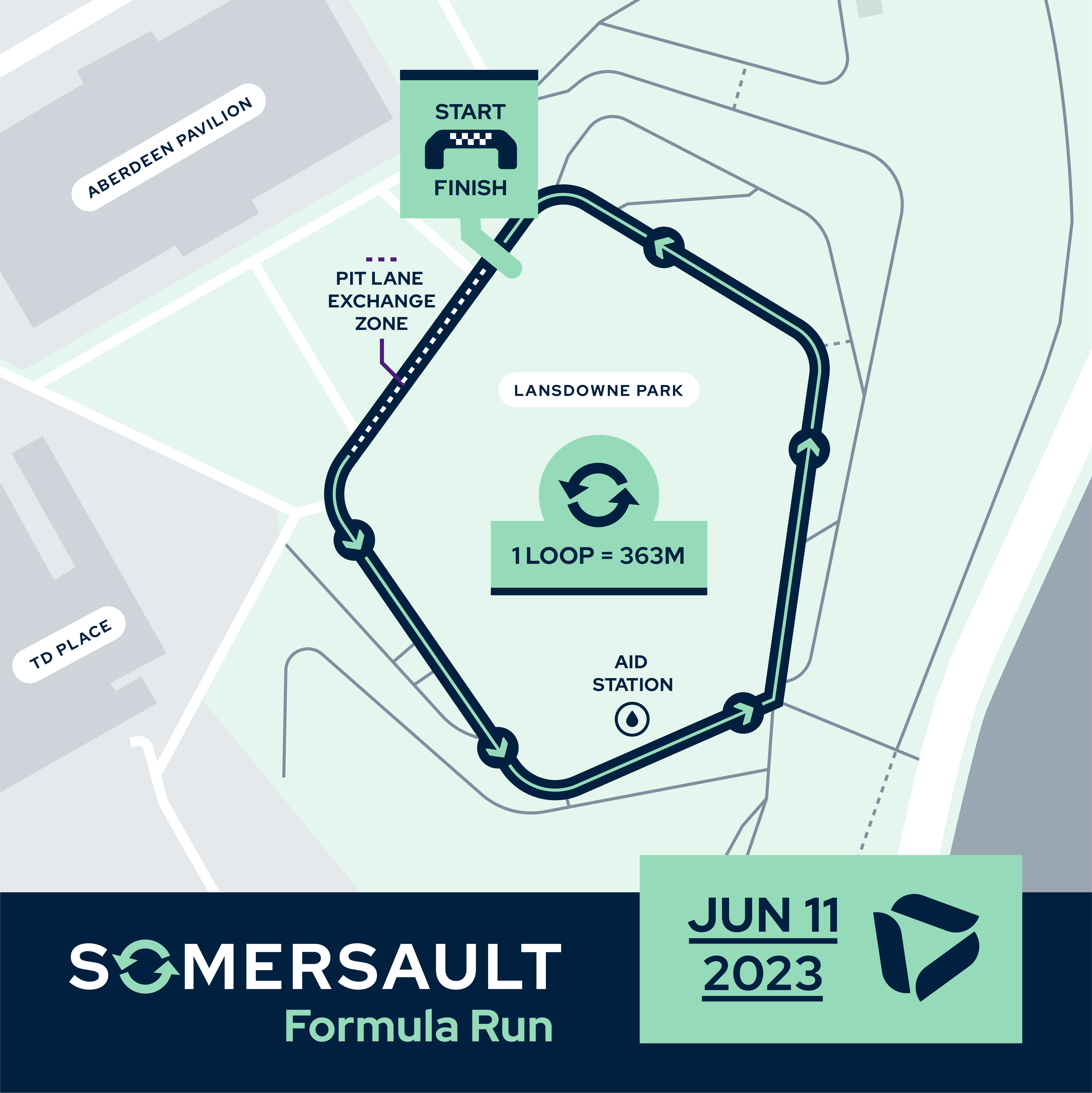 More running events added to:
We love running events! In addition to our new Formula Run event, we've added 7 runs to our existing events. See below and sign up soon.
-Early Bird: 5K
-National Capital: 5K, 10K
-Thousand Islands: 5K, 10K
-Canadian: 5K, 10K
Meech Lake Triathlon is now part of the Somersault Family
This is your only chance to do an organized triathlon in Gatineau Park. It's been going on since 1983 and sells out every year. it's limited to 300 participants and is the epitome of local triathlon. It's also the oldest triathlon in Quebec!
Kids Races are back
We now have specific events for athletes ages 15 and under.
Our new ByTown Storm Youth Series is a series of try-a-tri distance triathlons. They'll have a separate start from the adults, to give our younger participants more space, and so that they can line up with their peers. Anyone 15 and under can participate and we'll have a podium ceremony for the 12-13, and 14-15 age groups. Athletes younger than this are welcome to compete but can also choose our other kids-specific race, below.
Surf N Turf Races have been added to National Capital and The Canadian! A 50m swim, followed by a 250-400m run is a great way for younger participants to try their first event. Anyone aged 11 and under can participate. These little rockstars are also allowed to get support from their parents/guardians during the race. The swim course is shallow enough to walk (or, if needed, be carried) and all abilities are welcome.
Anything else?
Follow us on social media to keep in touch. Otherwise, be sure to visit our new website and see what else we have in store for 2023.
The Somersault Team