National Capital is coming up quickly and we wanted to send some final reminders. Please read through this entire email so that you're ready for your run!
Transfer Deadline: Tuesday June 13th at 6pm:
If you need to change any info related to your registration please let us know before Tuesday, June 13th at 6pm. We won't be able to make any changes after that time, so be sure to reach out soon if you need anything.
The race is officially sold out! We're working to increase capacity for 2024 but thanks for signing up in advance.
Who doesn't love a commemorative race medal?! If you want a finisher medal, but haven't ordered one, let us know. When you registered online, there was an option to add a medal to your order, but there wasn't an option to add multiple medals to an order. Our online platform is working to build out that feature, but until then, email me if you'd like to add more medals to your order.
We will also bring extra medals to the race, in case you want to add them to your order at the last minute.
We'll have an in-person orientation on Friday June 16th, at 5pm, at Woodlands Beach. You'll also be able to pick up your bib on-site from 3pm to 6pm that day.
There's plenty of free parking at Woodlands Beach, but please consider carpooling.
Bring your smile, or your game face, and keep an eye out for our Race Photographers on Race Day. The photos are FREE for anyone who participates. They're sponsored by St. Lawrence Parks Commission.
We recommend showing up one hour before the race, to find parking, get your bib, warm up, and make your way to the start line. We'll be set up at Woodlands Beach, starting at 7am.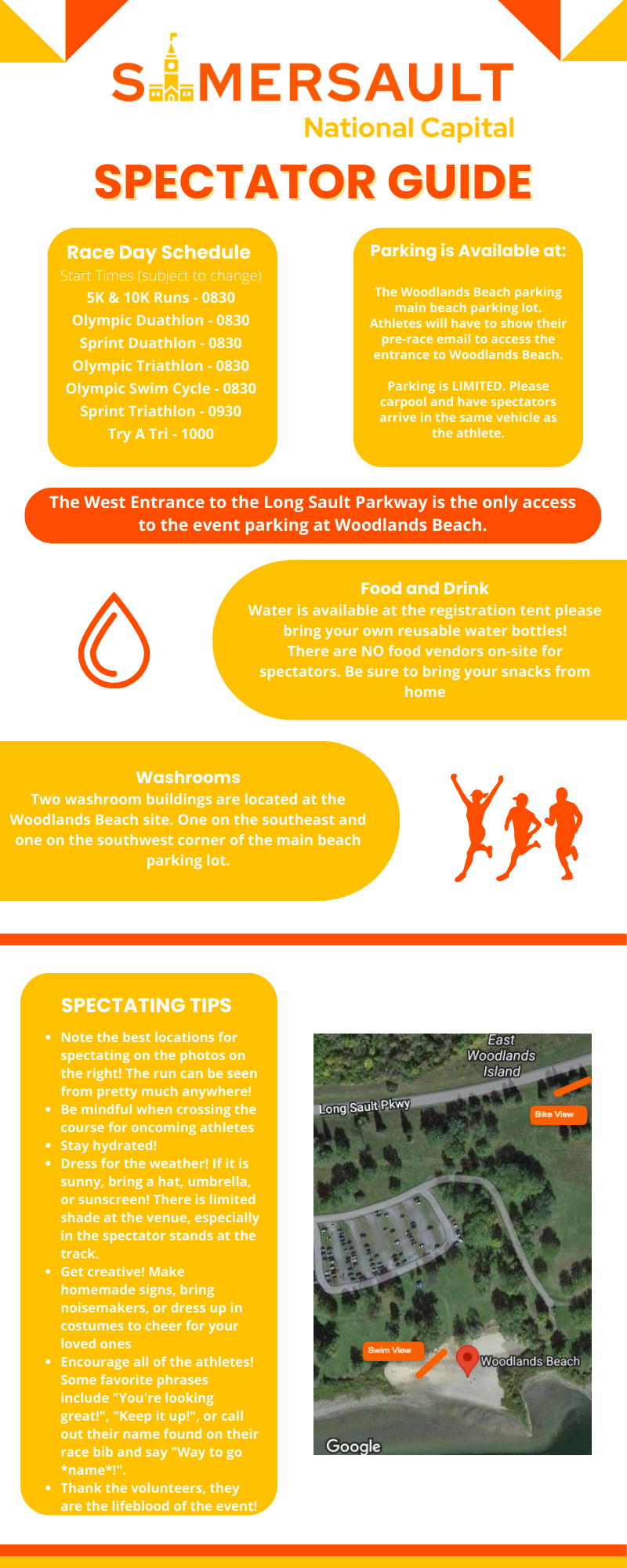 We have this handy Spectator Guide! It highlights all the info that you and your spectators will find helpful on Race Day.
If you have any friends or family that would like to come to be part of the event in a different capacity, we're looking for a few more volunteers to help at the water stations and finish line.
Feel free to have them email Adam@Somersault.ca if they're interested in bring part of our Race Crew on June 17th.
If you have any last-minute questions, please let us know! Otherwise, check out our website for all things Somersault. You can also keep in touch with us on Facebook and Instagram.