The Early Bird is coming up quickly and we wanted to send some final reminders. Please read through this entire email so that you're ready for your run!
Spots still available in Duathlon/Runs:
If you have someone who's interested in running with you, the deadline for online registration is Tuesday, May 16th at 6pm. After that, they can sign up in person during Bib Pick Up (timing and location below).
Signing up online, before the deadline will ensure that you get an event-specific race bib. While we do offer race day sign-up, those participants will get a series bib instead.
All of our swim events are sold out but we still have spots available in the duathlons and running events.
Deadline for Edits or Transfers:
If you need to change any info related to your registration please let us know before Tuesday, May 16th at 6pm. We won't be able to make any changes after that time, so be sure to reach out soon if you need anything.
We'll have an in-person orientation at Carleton University, P6, on May 19th, at 5pm. It'll be led by Coach Todd from the Ottawa Triathlon Club.
If you can't attend, we encourage you to watch this virtual orientation. If anything is unclear or if you have more questions, you can email Adam@somersault.ca.
There's plenty of paid parking at Carleton University, and we recommend parking at P7, which is right off Bronson Ave. Our event is being posted in P6, but there's no parking available there because of our setup.
Otherwise, you can also access the area by bike, bus, or on foot. Although you might want to save some energy for the race!
Bring your smile, or your game face, and keep an eye out for our Race Photographers on Race Day. The photos are FREE for anyone who participates. They're sponsored by Venuestack.
We recommend showing up an hour before the race, to find parking, get your bib, warm up, and make your way to the start line.
We'll be set up at P6, at Carleton University. You can pick up your bib on May 19th from 3pm-6pm, or on the morning of the race, starting at 7am.
All race start times and last-minute info are posted on our event page.
Show up on-site an hour before the race, so that you can get set up, warm up and make your way to the start line.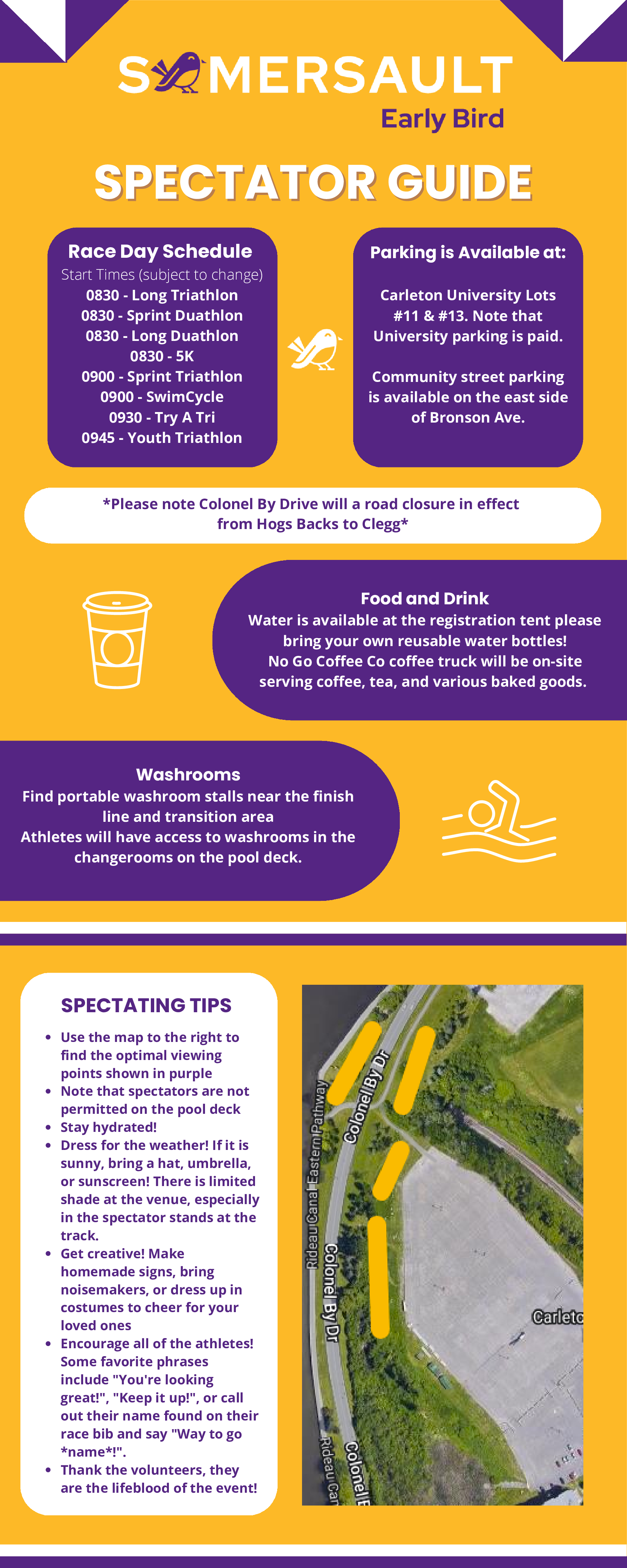 We have this handy Spectator Guide! It highlights all the info that you and your spectators will find helpful on Race Day.
If you have any last-minute questions, please let us know! Otherwise, check out our website for all things Somersault. You can also keep in touch with us on Facebook and Instagram.