Our 2023 events are now live at Somersault.ca and we're already seeing lots of excited participants signing up. It's great to see so many familiar faces signing up and we look forward to seeing you again at the next start line. For those of you that are signing up for your first Somersault event, we can't wait to meet you.
It's worth noticing that 3 events for 2023 are on track to sell out earlier than usual. Early Bird, Meech Lake, and Thousand Islands all seem to be extra popular this time around. If you're looking to join us at these events, we recommend signing up early!
Below is a short list of updates from our end, along with some offers from our sponsors. Our next newsletter likely won't go out until 2023, so if we don't chat with you before then, enjoy the holiday season!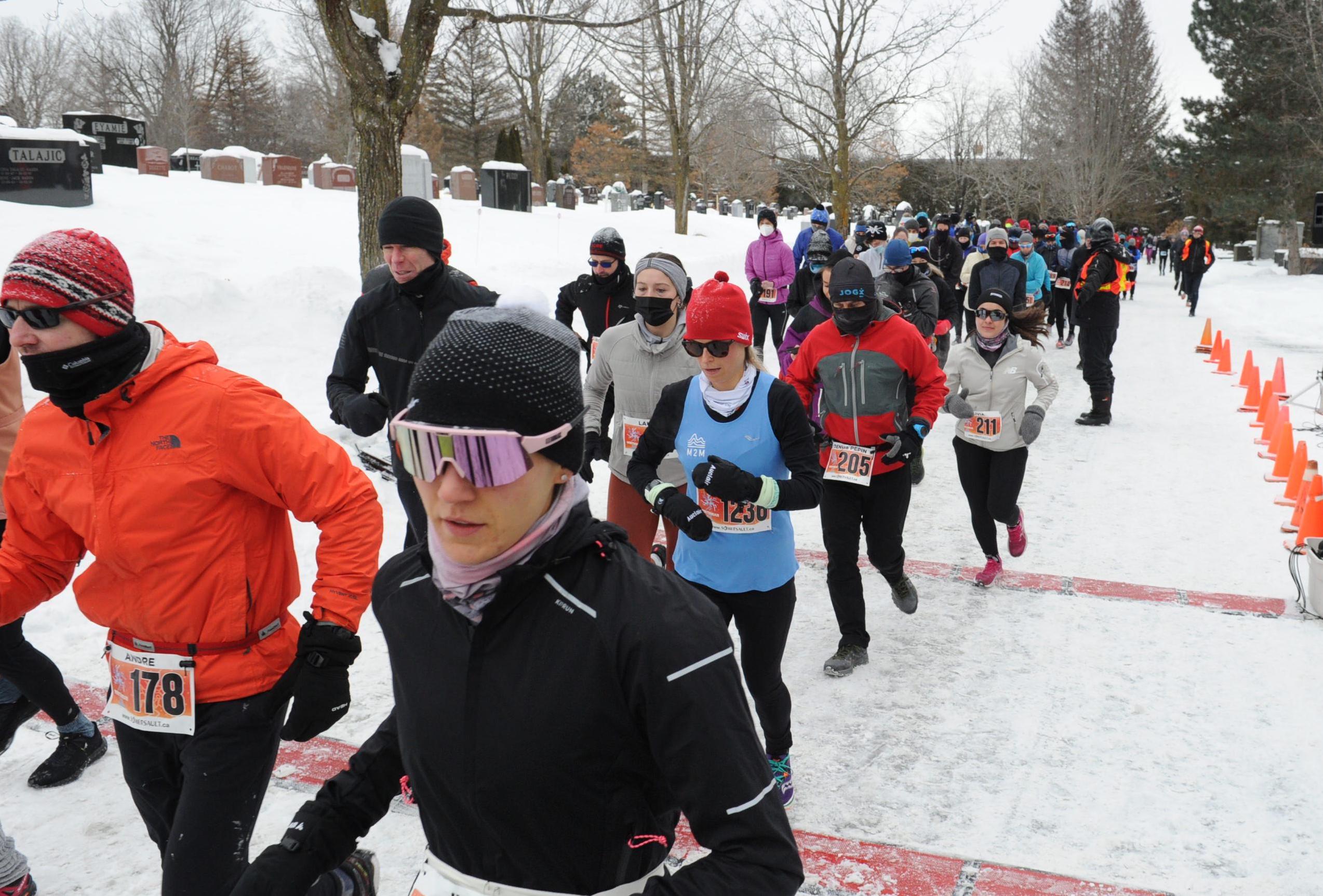 We have a new, but familiar home for Embrace Winter in 2023. We'll be hosting the event at the Canadian War Museum and running along the Sir John A MacDonald Parkway (SJAM).
We've run on this parkway in previous editions, but we've made some changes that we think you'll love. Most notable is that we've removed one of the big hills from our loops, meaning that the course will have less overall elevation but it'll still include some rolling terrain.
And yes, we'll have hot chocolate at the finish line again, along with lots of new goodies. New for this year is that everyone who signs up for this race gets a Somersault neck cover with their bib pickup! This buff is our first piece of clothing to feature our new logo and we're excited to show it off at our next event.
This event is in support of Imerman Angels so be sure to tell your friends about this great race, for a great cause.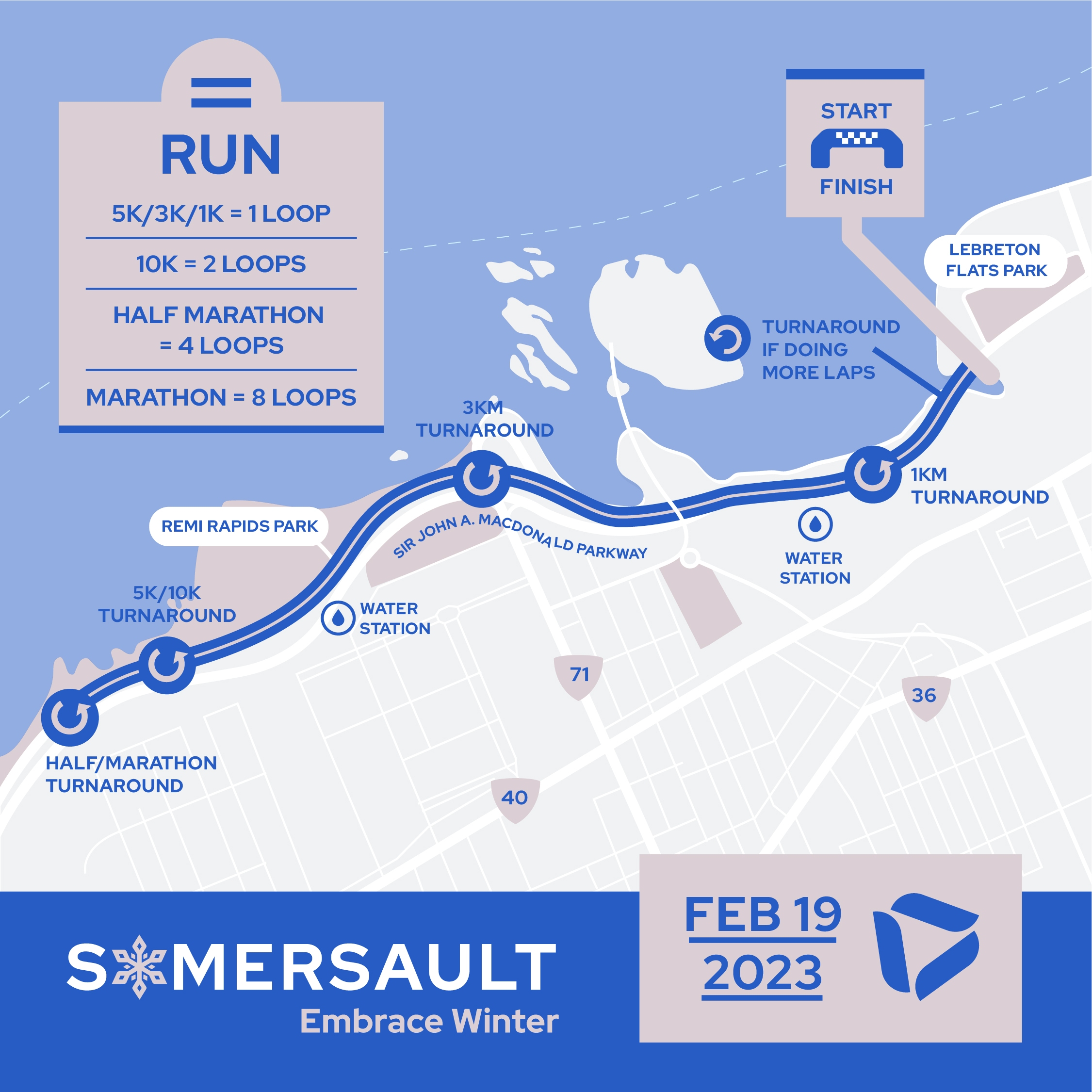 Somersault is already Certified Carbon Neutral and we produce minimal trash, thanks to our recycling and composting efforts. However, we're looking to take things one step further.
We compost or recycle thousands of cups at every race. We made the move to recyclable or compostable cups in 2022 but we'd love to use reusable cups for 2023. We found a supplier who can make us cups that can be safely sanitized and reused for years. Cups currently make up over 75% of what we send to the blue bin/green bin but the City does end up diverting some recyclables to landfill. That means that some of our recyclable cups may still make their way into a landfill.
If you happen to know of a local business that would like to support our efforts to go green, we're looking for a sponsor to help cover some of the upfront cost for this feature. This one-time investment will put your logo on every cup for several years and will include a marketing package so that everyone knows who to thank for the green initiative. We hope that participants will be continuously reminded of your generosity at every water station. Given that we have over 25 water stations planned for 2023, we hope that this keeps you top of mind!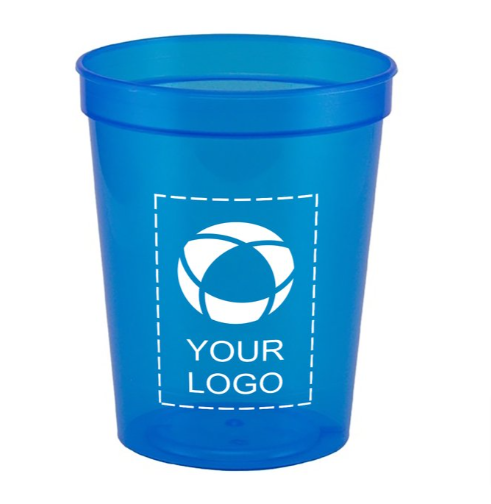 Offers from our Sponsors:
Our sponsors help us make our series more fun and affordable. Their support helps us pay for things like photographers and post-race nutrition. Without them, we'd have a lot fewer frills and it would cost more to sign up for an event.
We hope that you'll consider supporting those that support us. Here are some reminders and offers from 2 of our sponsors - John Gomes Real Estate and Velofix Ottawa.
John is a familiar face in our series. You'll often see him participating in the races, then cheering on the rest of the field after he finishes. John is also the reason that we're able to offer free race photography at Embrace Winter and Fall Colours. He does so much for his community and he wanted to introduce himself to you. If you're ever looking to buy or sell a home in Ottawa, please reach out to John.
A message from John Gomes:
My name is John Gomes and I am passionate about family, physical activity, and real estate! I work hard to maintain healthy relationships in my community and support initiatives like Somersault which inspire me to do hard things! I look forward to the many races coming up in the spring, as I know they will help me stay focused on my goals! Life throws us challenges and whether running a marathon, running after my kids, or hustling for my real estate clients I am here to work hard!
All in-stock Smart Trainers are now on sale, while quantities last. If you enjoy cycling and want to keep up the kilometers this winter, Velofix Ottawa can set you up with an indoor cycling trainer. They can also set up Zwift or any other online platform, leaving you with a great way to continue riding this winter. They have the following trainers in stock:
-Wahoo Snap (3 left)
-Wahoo Core (2 left)
-Wahoo Kickr (1 left)

Reach out to Ottawa@velofix.com to get pricing or to ask any questions. They can also help with your other bike-related needs: Christmas gifts, tune-ups, gift cards, stocking stuffers and more. The best part about velofix is that they're mobile. They come to you for all your cycling needs.
Follow us on social media to keep in touch. Otherwise, be sure to visit our new website and see what else we have in store for 2023.
Our social media pages have been 'trending' lately, according to Facebook and Instagram. We have Reels posted every few days, daily content and it's the first place to hear of any news at Somersault. Following us on those platforms helps you stay informed about our series and gets you the freshest content!