Wed, Oct 11, 2023
2024 Flower Fun Run Pre Race Newsletter

The Mother's Day Flower Fun Run is coming up and we wanted to send some details about the event. Please read through this entire email so that you're ready for your run!
Sign up Early:
Last year this event sold out weeks in advance! We've added extra capacity to the race for 2024 but be sure to sign up early, to guarantee your spot.
Keep an eye out on our website and social media to see if it's sold out yet. If we have any bibs left, we'll offer race-day registration but we're anticipating another sell-out event.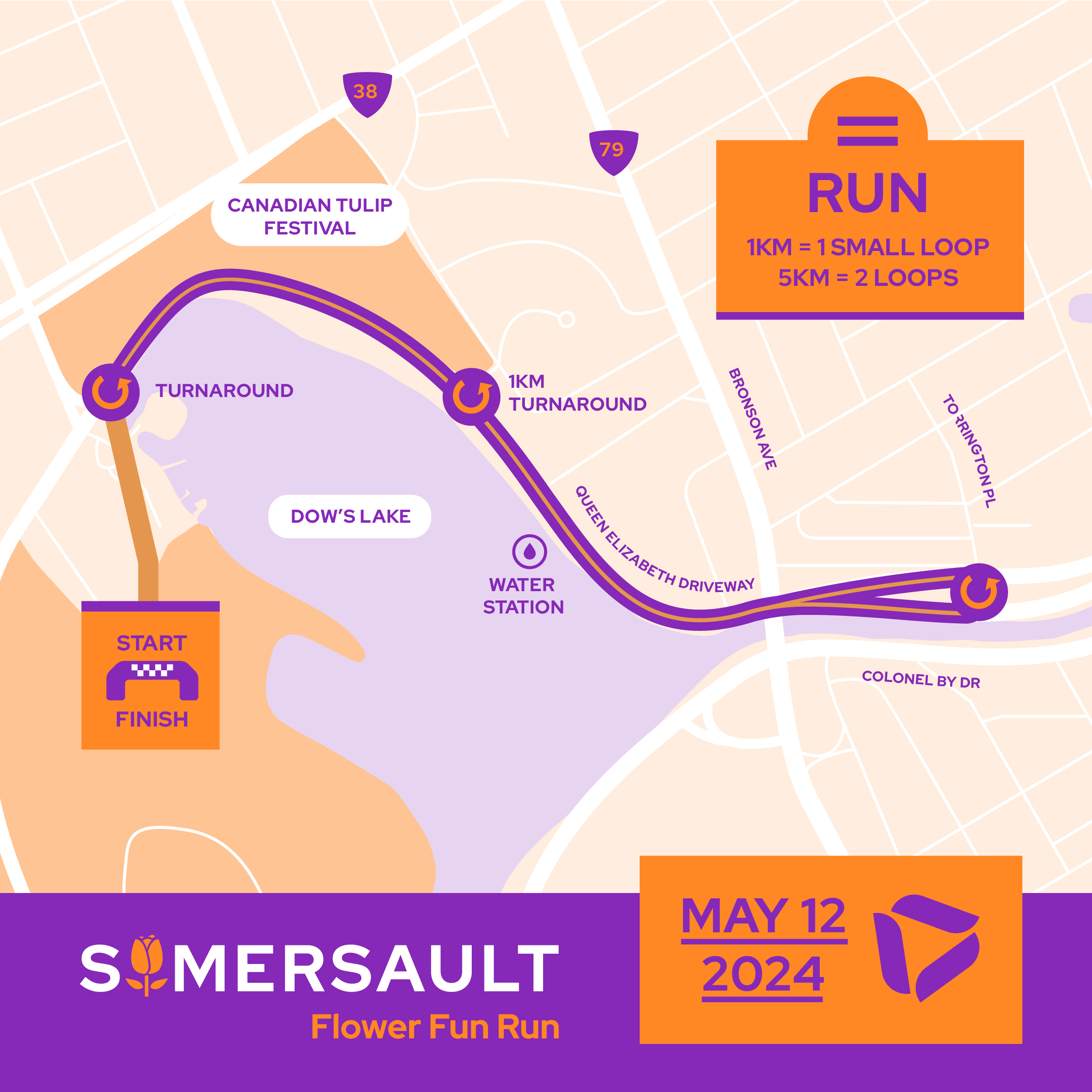 Orientation:
We don't have access to the course until Sunday morning, so there won't be an in-person orientation.
Instead, we encourage you to watch this virtual orientation. If anything is unclear or if you have more questions, you can email Adam@somersault.ca or show up to the event a little early on Sunday to ask your questions in person. We'll be ready for you by 11am!
On Sunday, we'll be at Dows Lake, at the start line, as seen in the map above. You'll see our purple tents in front of the Dows Lake Pavillion.
Watch the virtual orientation video
Getting to the Event:
We can't stress this enough - parking is limited in this area, so be sure to add some buffer time to your travel plans. If you get there a bit early, you can enjoy the Tulip Festival!
There's parking in the nearby communities, but you can also access the area by bike, bus, or on foot. Although you might want to save some energy for the run!
During our site visit today, the course looked as beautiful as ever, but with so many people trying to see the Tulips, parking is going to be difficult.
Free Race Photos!
Bring your smile, or your game face, and keep an eye out for our Race Photographers on Race Day. The photos are FREE for anyone who participates. They're sponsored by The Canadian Tulip Legacy.
When to Arrive:
We recommend showing up an hour before the race, to find parking, get your bib, warm up, and make your way to the start line. Bib pickup opens at 11am.
Bib Pick up:
We'll be set up at the start/finish line, right outside of Dows Lake Pavillion. Keep an eye out for the purple Somersault archway and tents.
The race starts are:
Noon: 1K
12:30: 5K Run (30 minutes or faster)
1:15: 5K Run, Walk, or Stroll
Show up on-site an hour before the race, so that you can get set up, warm up and make your way to the start line.
Spectator Guide: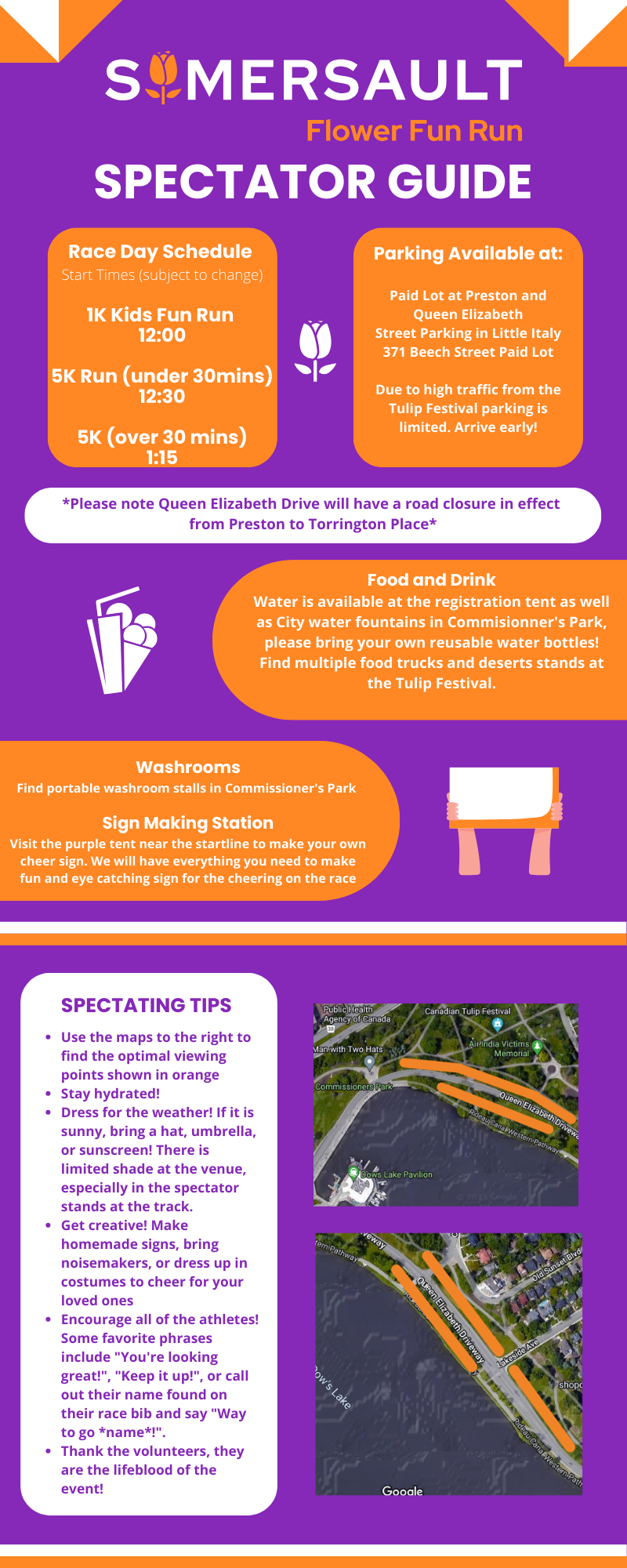 We have this handy Spectator Guide! It highlights all the info that you and your spectators will find helpful on Race Day.
Anything Else?
If you have any last-minute questions, please let us know! Otherwise, check out our website for all things Somersault. You can also keep in touch with us on Facebook and Instagram.
Somersault