Sun, Oct 29, 2023
2024 Camp Tri Pre Race Newsletter

The Camp Tri event will be here before we know it and we wanted to send some event reminders. Please read through this entire email so that you're ready for your race!
Transfer Deadline: Tuesday, September 3rd at 6pm:
If you need to change any info related to your registration please let us know before Tuesday, September 3rd at 6pm. We won't be able to make any changes after that time, so be sure to reach out soon if you need anything.
After that date, registration will be open, subject to availability. The best way to guarantee your spot is to register early!
Orientation and Bib Pickup:
You'll be able to pick up your bib at the event site.
Address:
Milles Roches Beach: 15805 Long Sault Parkway
Times:
Friday, September 6th from 3pm to 6pmSaturday, September 7th, starting at 7am
If you want to do a bit of course recon, we encourage you to watch this virtual orientation. If anything is unclear or if you have more questions, you can email Adam@somersault.ca.
Watch the virtual orientation video
Getting to the Event:
There's plenty of parking at the War Museum, but we always recommend biking or carpooling to the event if you can.
When to Arrive:
We recommend showing up one hour before the race, to find parking, get your bib, warm up, and make your way to the start line. We'll be set up at the War Museum, starting at 7am
Spectator Guide: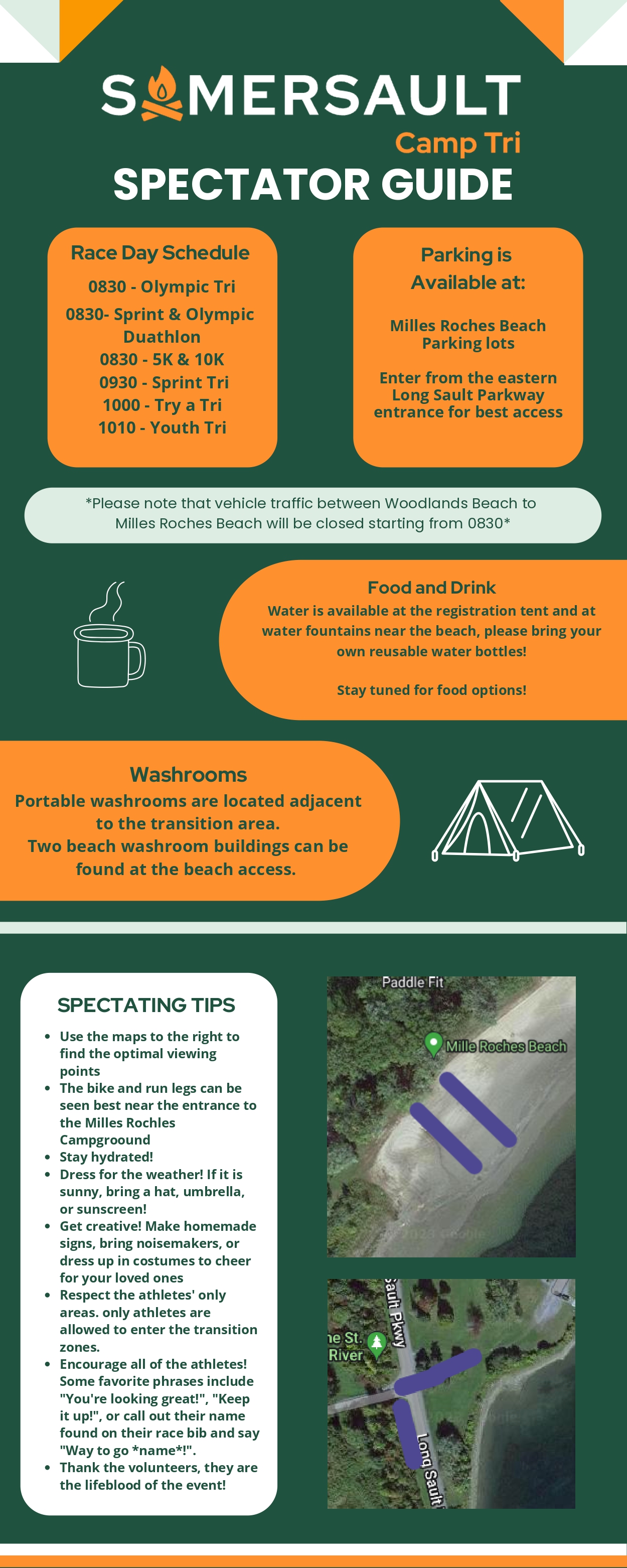 We have this handy Spectator Guide! It highlights all the info that you and your spectators will find helpful on Race Day.
Anything Else?
If you have any last-minute questions, please let us know! Otherwise, check out our website for all things Somersault. You can also keep in touch with us on Facebook and Instagram.
Somersault