Eastern Ontario's Largest Multisport Series.
Creating inspiring events for all goals.
Hosting triathlon, duathlon and running events in the National Capital Region. Take a look at our upcoming events to see what we have in store. We can't wait to see you at the next start line!
Explore 2023 Events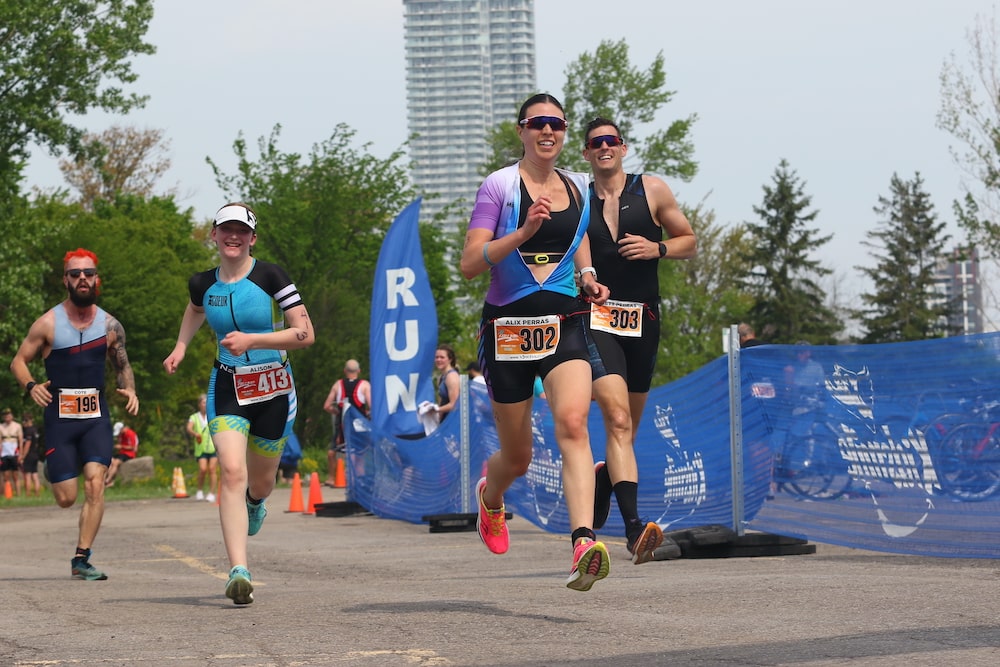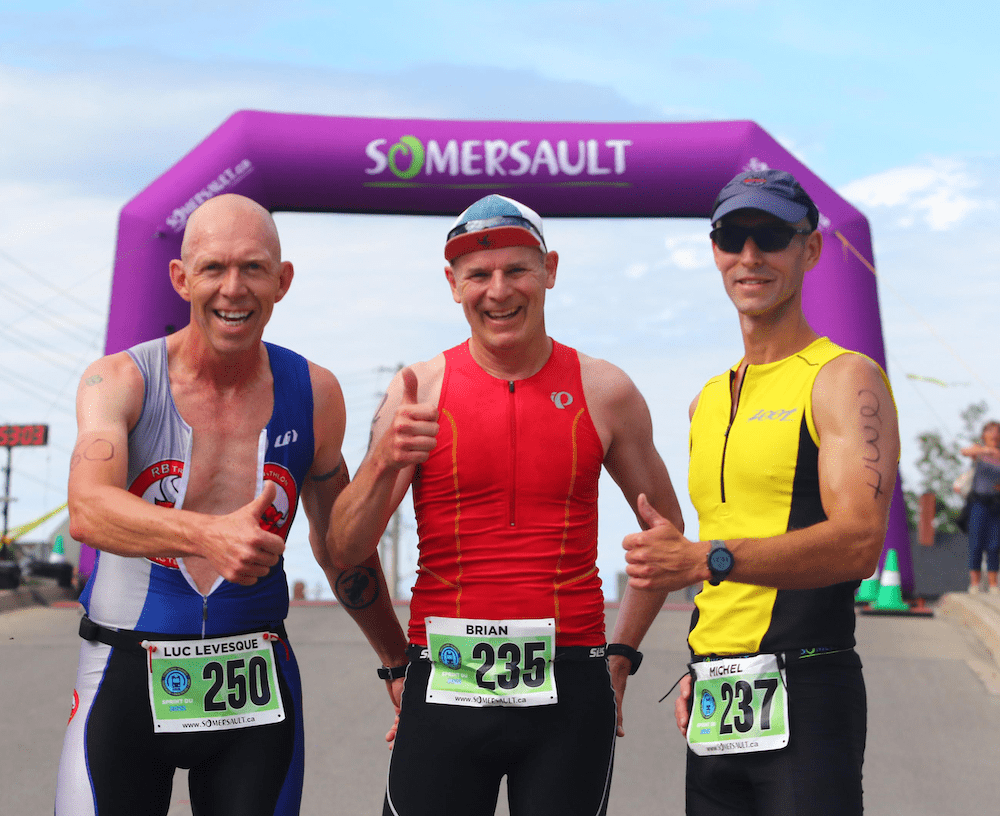 About Us
Somersault is a race series, based in Ontario, Canada, that specializes in multisport and running events. Somersault has been producing events for over 35 years and has grown to now host thousands of athletes each year.
Now under new ownership, co-owners and husband and wife, Adam Kourakis and Elizabeth Krause are committed to continuing the Somersault legacy of putting on incredible events in the National Capital Region.
Our Values:
Safety - Above all, safety is our utmost priority. We are committed to ensuring that you are safe and supported in all of the phases of race day. Whether it is in water or on land, you will be supported by skilled safety teams.
Community - Our events serve as a gathering place for the running & multisport community. It is a community that lifts each other up and lends a hand when it is needed. We engage with our community continuously through seeking and responding to participant feedback and suggestions.
Fun - Why race days are so special - the buzzing energy at the start line and the pride and smiles at the finish. Fun is the reason why at the end of each race, you cannot wait for the next one!
Inclusion - No matter if it's your first race or fiftieth, there is a place for you at Somersault events. We believe that triathlon, duathlon, and running are sports where everyone belongs. When you race with us, you are treated equitably, and always with respect.
News & Updates
Embrace Winter Run - Pre Race Newsletter
The Embrace Winter Run is coming up quickly and we wanted to send some final reminders. Please read through this entire email so that you're ready for your run!
If you have someone who's interested in running with you, the deadline for online registration is Tuesday, February 14th at 6pm. After that, they can sign up in person during Bib Pick Up (timing and location below).
Deadline for Edits or Transfers:
If you need to change any info related to your registration please let us know before Tuesday, February 14th at 6pm. We won't be able to make any changes after that time, so be sure to reach out soon if you need anything.
We don't have access to the course until Sunday morning, so there won't be an in-person orientation.
Instead, we encourage you to watch this virtual orientation. If anything is unclear or if you have more questions, we recommend emailing us or visiting us on February 18th for bib pickup, where you can ask your questions in person. When you get on site, we'll be set up inside the War Museum for bib pickup, bag check, and massages.
There's a parking lot at the Canadian War Museum, open at 7am. Please do your best to carpool, bike, walk, or bus to the event. That'll help avoid some congestion and it'll help keep some cars off the road. Our course is close to the LRT station and centrally located.
Bring your smile, or your game face, and keep an eye out for our Race Photographers on Race Day. The photos are FREE for anyone who participates. They're sponsored by John Gomes Real Estate.
If you want to thank John for his generosity, you can thank him in person on February 19th, as he'll be racing the Half Marathon. Catch him if you can!
John has been one of our biggest supporters and has really helped us make a comeback after 2 years of shutdown. We can't thank him enough but we hope that you'll consider John for all your Real Estate needs.
We recommend showing up an hour before the race, to find parking, get your bib, warm up, and make your way to the start line. Bib pickup opens at 7am.
We highly recommend picking up your race bib on Saturday, from Noon to 3pm. We'll be set up at Decathlon Ottawa, at this address: 1055 St. Laurent Blvd, Ottawa, ON K1K 3B1.
If you pick up your bib on February 18th, you get a 10$ gift card to Decathlon!
For Race Day, you can pick up your bib inside the War Museum, at this address: 1 Vimy Pl, Ottawa, ON K1A 0M8. We'll be ready as early as 7am.
8:00am Marathon Start (7 hour cut off)
Show up on-site an hour before the race, so that you can get set up, warm up and make your way to the start line.
We have this handy Spectator Guide! It highlights all the info that you and your spectators will find helpful on Race Day.
Mill Street Brunch. Please RSVP:
All participants, volunteers, spectators, and friends of Embrace Winter get 20% off their food and drinks at Mill Street on Sunday, February 19th. We have the 2nd floor reserved for us but we need to give Mill Street an approximate number of attendees. If you plan on coming to Mill Street after your run, please click the button below. You can always change your mind later, so while your RSVP isn't a firm requirement, it does help us plan things out to give you the best experience possible.
On February 19th, we'll have some limited-edition Somersault gear on sale.
Our New Somersault Toques. 25$
Somersault Neck Covers. 5$
2022 Somersault Event Shirts: 60% off, at only 20$.
We have limited inventory on all items, so be sure to come by before they're gone! You can pay by e-transfer, or with cash.
Podium Prizes from Ottawa Titans Baseball:
The top 3 male, female, and non-binary athletes in each race (excluding the 1K race) get 2 tickets to an upcoming Ottawa Titans Baseball Game!
Ottawa is lucky to have a Frontier League Baseball team that is #HereToStay. Ottawa Titans games are fun for the whole family while being an affordable entertainment option. Come and experience the crack of the bat, the exciting plays, and the hollers of the crowd, while creating lasting memories. We are counting down the days until their home opener on May 12th! In the meantime, be sure to get a high five and a photo from Cappy, the Ottawa Titans mascot who will be cheering the Embrace Winter runners on at the finish line. This is #OurTime
Rick's Tricks! Race Day Swim Tips
Race Day Swim Tips from Rick Hellard.
After a great first edition of "Ricks Tricks", we're glad be back with our 2nd one. The first one was really well recieved, so we hope that you enjoy this one too.
Rick is the owner of ROC Swimming and Zone3sports. He's a former Professional Triathlete, all distances; and has 25 years of coaching experience, from beginner to podium at all levels
If you're looking for a great triathlon coach in Ottawa. Email Rick at zone3sports@gmail.com. Onto the info from Rick
As a long-time triathlon and swim coach, I am often asked for advice on the swim start and how to make the best of it.
First and foremost, the strongest piece of advice I can give you is to train for the swim. It may be the shortest event of the three, but it sets the tone for the rest of the race. A bad swim just puts you in a bad mood, and that transfers to the bike and run. Besides, a good swim gets you on your bike and onto the run sooner.
Secondly, always always bring a spare pair of goggles to every race. You do not want to lose or break your only pair just before the start and need to borrow or buy an untested pair.
Know the swim course, at least the direction, shape, and proper turnaround buoy. With many events offering different race distances, this may be more important than you think.
Seed yourself properly, both front to back of the group, but also side, middle, or other side of the group.
The middle front of the group is best for the fastest swimmers, whereas the slower or more nervous swimmers are best placed on the outsides. Strong and/or confident swimmers who don't mind the washing machine are okay in the middle of the group.
The first 30-40 seconds should be firm, but not crazy hard. Wind it up after that. Going into oxygen debt at any point in a race is a bad idea, but in the first minute, it is really not smart and can cause panic from which you may not recover until you hit land again.
If the race allows it, make sure to warm up for 5-10min. Particularly in cold water, get in and get used to the temperature, especially your face. Swim around, and do some easy drills. If you plan to hammer the swim, do some short sprints to get your heart rate up. If you plan to just swim, then the short sprints are not necessary.
If the water is choppy, a straight arm recovery works better than a bent elbow.
If it's wavy, breathe and sight at the top of the wave, not between the waves.
If you can, breathe on the side away from the wave most of the time.
If you can, breathe on the side of the swim buoy you are sighting, or about to turn around i.e. look at what you are aiming for, or turning at.
Weeds are a part of open water swimming. There is not much you can do about them.
Goggles fog up. Maybe not right away, but eventually, they will. If you expect this to happen in your race, simply put 2-3mm of water in the goggles, and leave it there. As you swim, shake your head around to swish the water inside the goggles. Repeat as necessary.
Sometimes, we get hit and goggles get out of sorts–simply flip over onto your back, fix them, then flip back over and keep going. This also works if you get water in them by accident–flip onto your back, empty, flip back onto your front. It should take 5sec at most. Practice this a few times in your open-water swim training.
Do some open-water swim training…
Zone3sports & ROC Swimming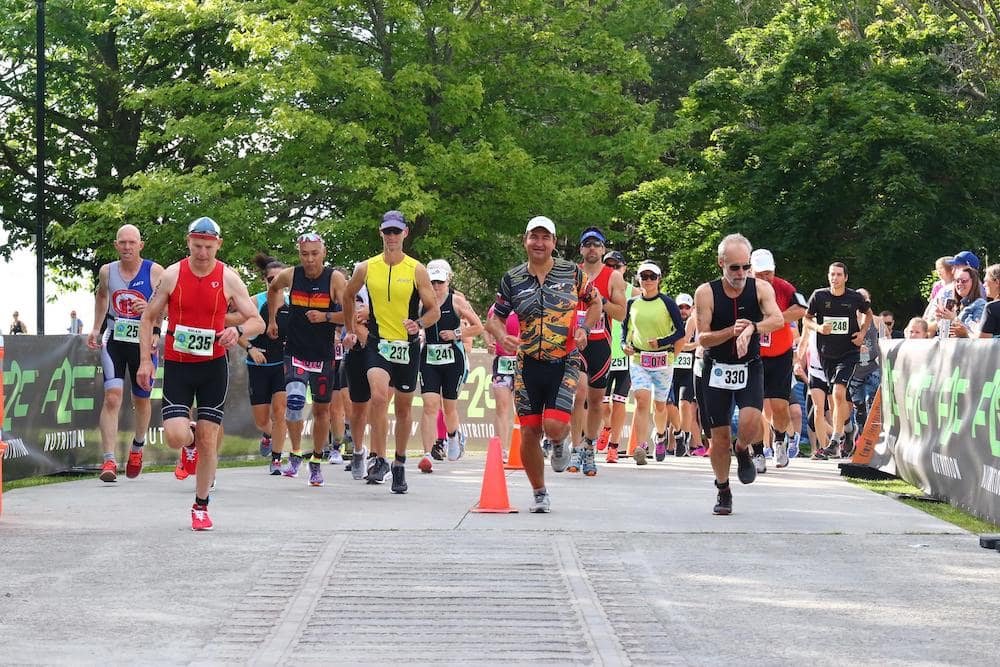 Creating inspiring events for all goals.
Hosting triathlon, duathlon and running events in the National Capital Region. Take a look at our upcoming events to see what we have in store. We can't wait to see you at the next start line!
Explore 2023 Events
Our Awesome Sponsors
Our series would not be what it is today without the help of these sponsors. Please consider supporting those that support us!
Join our newsletter
Stay up to date on all things Somersault by joining our newsletter.