Eastern Ontario's Largest Multisport Series.
Creating inspiring events for all goals.
Hosting triathlon, duathlon and running events in the National Capital Region. Take a look at our upcoming events to see what we have in store. We can't wait to see you at the next start line!
Explore 2023 Events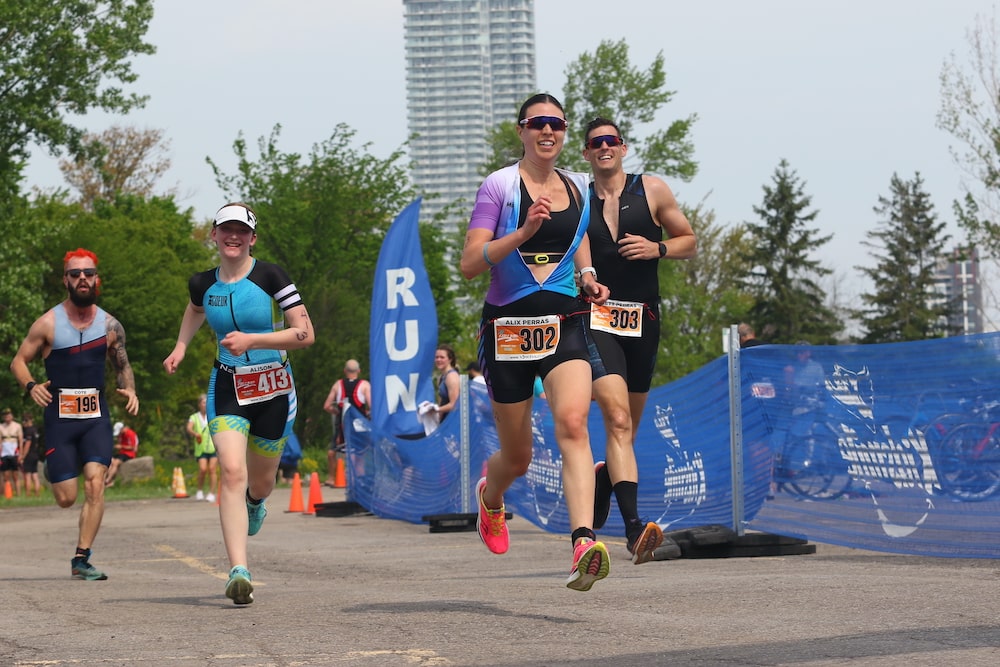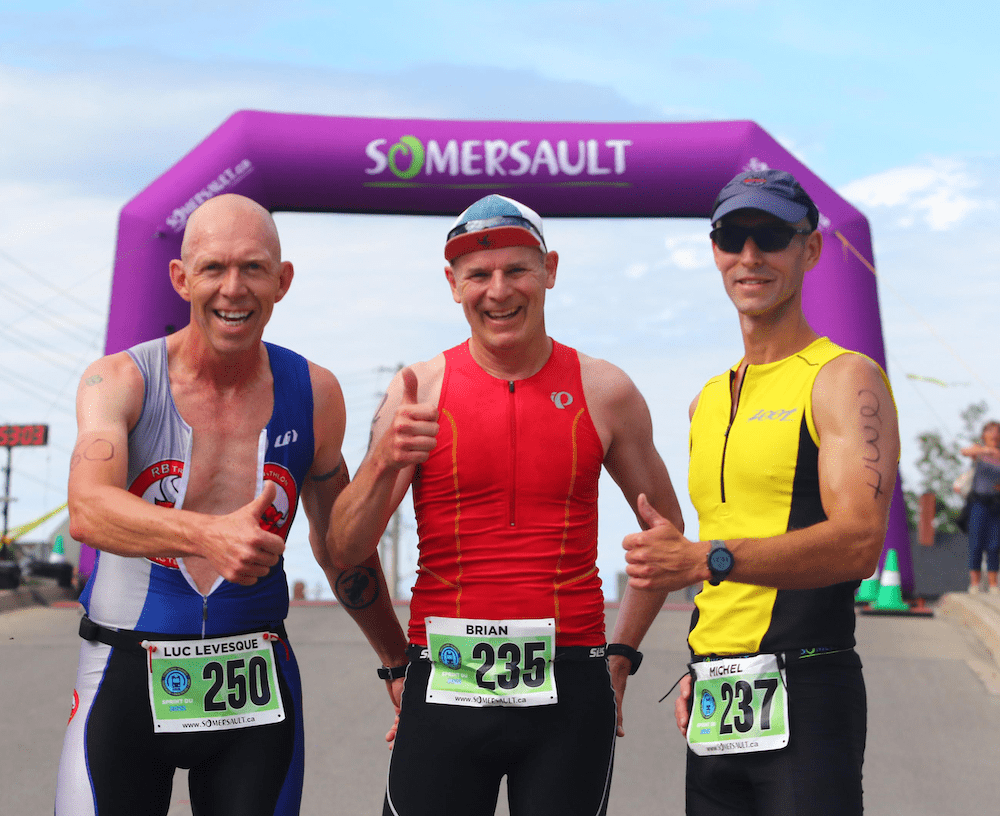 About Us
Somersault is a race series, based in Ontario, Canada, that specializes in multisport and running events. Somersault has been producing events for over 35 years and has grown to now host thousands of athletes each year.
Now under new ownership, co-owners and husband and wife, Adam Kourakis and Elizabeth Krause are committed to continuing the Somersault legacy of putting on incredible events in the National Capital Region.
Our Values:
Safety - Above all, safety is our utmost priority. We are committed to ensuring that you are safe and supported in all of the phases of race day. Whether it is in water or on land, you will be supported by skilled safety teams.
Community - Our events serve as a gathering place for the running & multisport community. It is a community that lifts each other up and lends a hand when it is needed. We engage with our community continuously through seeking and responding to participant feedback and suggestions.
Fun - Why race days are so special - the buzzing energy at the start line and the pride and smiles at the finish. Fun is the reason why at the end of each race, you cannot wait for the next one!
Inclusion - No matter if it's your first race or fiftieth, there is a place for you at Somersault events. We believe that triathlon, duathlon, and running are sports where everyone belongs. When you race with us, you are treated equitably, and always with respect.
News & Updates
Rick's Tricks! Early Bird Edition
We're back for another edition of "Rick's Tricks". In this posting, Rick will share his tips to make the most of the Early Bird Triathlon. Rick is a multiple-time winner of this race and knows the course inside and out.
Rick's Tips 3 for the Early Bird Triathlon
● pick up your timing chip,
● rack your bike with your helmet and get to the pool. Note where your bike and rack is in relation to both directions / entrance / exits. It's a long way from the transition zone to the pool, so give yourself time to get to the pool. Set up your shoes and shirt outside the pool.
● Line up fastest to slowest. Ask a few people about their expected swim times. Don't take just one person's word for it.
● There will be a timing mat to cross at the start, but starts will be roughly every 5sec.
● Swim on the left of the lane, back on the left, flip turn under rope.
● Walk to the emergency exit and go down the stairs to P12. Do not run or pass anyone from the water exit to the building exit.
● if wearing running shoes on the bike, put on socks, shoes and a shirt with your bib number on it, then run to the t-zone and your bike.
● if wearing cycling shoes on the bike, put on shirt with bib number, then run to t-zone and your bike.
● You can pass people in this segment.
● Once at your bike, the first thing you do is put your helmet on and do up the strap, then grab your bike and run to the road/mount line on Colonel By Dr.
● Remember to ride on the right of the lane, and pass on the left, then move back over to the right. Shoulder check every time you weave to pass
● Ride however many counter-clockwise 10k laps--one or two (not 11.3K) loops anymore. It's now 10K/loop)
● Finish at the dismount line.
● Run to your transition spot with helmet buckle done up,
● Head to run exit, which is towards Colonel By. The route is an out and back course.
● Leave the T-Zone and run on the Colonel By Dr. Depending on the distance they're running, they either turn around at the 1.25K mark (at Library ave) or at the 2.5K mark (hogs back) The runners turn around here and retrace their steps to the T-Zone or Finish Line.
HELPFUL HINTS–mostly bike stuff–These points apply to all triathlons, not just the
● You are not allowed to ride within 10m of the person in front of you for more than 15sec. This is called drafting–don't do it. You have to pass within 15sec, or back off to be 11m behind.
● You are not allowed to ride beside another rider for very long. This is called blocking–basically, you are in the way of other riders who may want to pass you.
● NEVER cross the centre line of the road.
● Wear tight clothing–like streamlining off the wall, the more sleak you are, the less wind resistance you will have and the faster you will be.
● Ride in as small a position as you can–if you have a road bike, stay on the drops so your front end is low. If you are on a mountain bike, get low in the front. This goes to the same point as streamlining off the wall.
● Pedal cadence, RPM, should be around 90 (only one leg count).
● Ride as straight and predictably as you can.
● You will ride where you look, so look beside obstacles on the road, not at them. Instead, look where you want to go, not where you don't want to go. Remember, you only have to not hit whatever it is. You do not have to miss it by much, you just have to miss it.
● Shoulder check often, especially when entering turns of changing your line (moving over to pass or after a pass)
● Use your brakes before the corners, not in the corner.
● Start corners wide and cut in close
● If you think you may have a tough time tying your shoelaces in a hurry, consider using elastic laces. This way, you do not need to tie them.
Early Bird 2023 Pre Race Newsletter
The Early Bird is coming up quickly and we wanted to send some final reminders. Please read through this entire email so that you're ready for your run!
Spots still available in Duathlon/Runs:
If you have someone who's interested in running with you, the deadline for online registration is Tuesday, May 16th at 6pm. After that, they can sign up in person during Bib Pick Up (timing and location below).
Signing up online, before the deadline will ensure that you get an event-specific race bib. While we do offer race day sign-up, those participants will get a series bib instead.
All of our swim events are sold out but we still have spots available in the duathlons and running events.
Deadline for Edits or Transfers:
If you need to change any info related to your registration please let us know before Tuesday, May 16th at 6pm. We won't be able to make any changes after that time, so be sure to reach out soon if you need anything.
We'll have an in-person orientation at Carleton University, P6, on May 19th, at 5pm. It'll be led by Coach Todd from the Ottawa Triathlon Club.
If you can't attend, we encourage you to watch this virtual orientation. If anything is unclear or if you have more questions, you can email Adam@somersault.ca.
There's plenty of paid parking at Carleton University, and we recommend parking at P7, which is right off Bronson Ave. Our event is being posted in P6, but there's no parking available there because of our setup.
Otherwise, you can also access the area by bike, bus, or on foot. Although you might want to save some energy for the race!
Bring your smile, or your game face, and keep an eye out for our Race Photographers on Race Day. The photos are FREE for anyone who participates. They're sponsored by Venuestack.
We recommend showing up an hour before the race, to find parking, get your bib, warm up, and make your way to the start line.
We'll be set up at P6, at Carleton University. You can pick up your bib on May 19th from 3pm-6pm, or on the morning of the race, starting at 7am.
All race start times and last-minute info are posted on our event page.
Show up on-site an hour before the race, so that you can get set up, warm up and make your way to the start line.
We have this handy Spectator Guide! It highlights all the info that you and your spectators will find helpful on Race Day.
If you have any last-minute questions, please let us know! Otherwise, check out our website for all things Somersault. You can also keep in touch with us on Facebook and Instagram.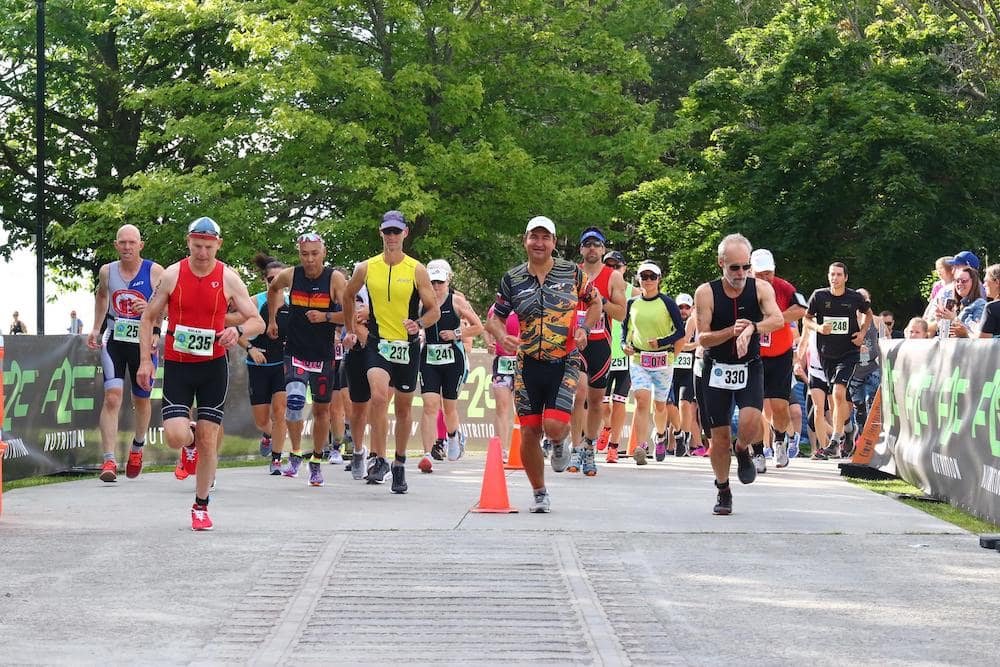 Creating inspiring events for all goals.
Hosting triathlon, duathlon and running events in the National Capital Region. Take a look at our upcoming events to see what we have in store. We can't wait to see you at the next start line!
Explore 2023 Events
Our Awesome Sponsors
Our series would not be what it is today without the help of these sponsors. Please consider supporting those that support us!
Join our newsletter
Stay up to date on all things Somersault by joining our newsletter.